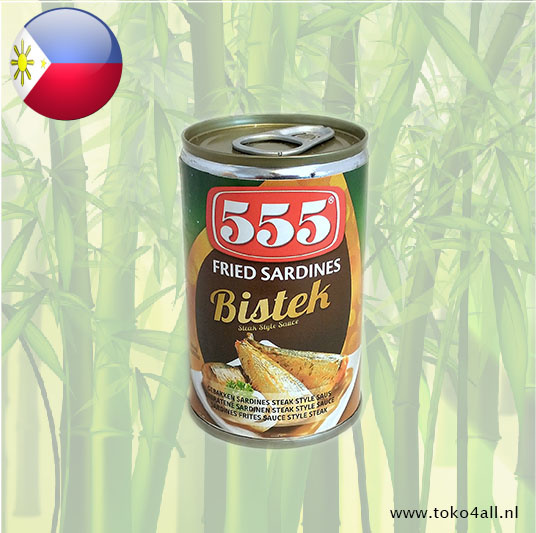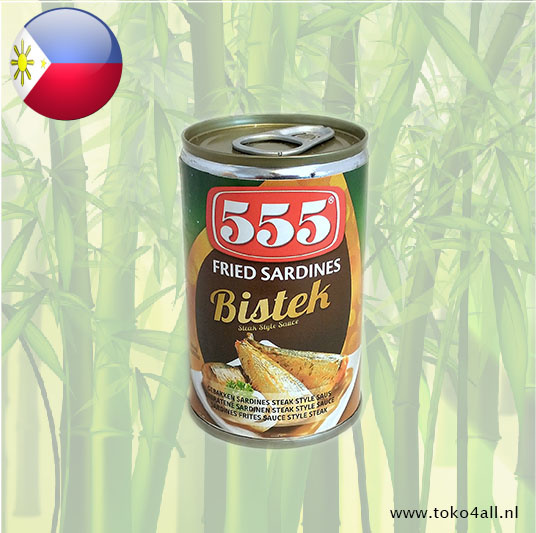 Fried Sardines Bistek 155 gr
€1,35
Fried Sardines Bistek are sardines in a sauce of calamansi, soy sauce, pepper and onion. Delicious with your rice dishes or a salad. Also available in other flavors.
In stock (12)
(Delivery timeframe:1-3 days)
Fried Sardines Bistek
These sardines are fried and in a sauce of calamansi, soy sauce, pepper and onion also called Bistek. Easy to open, so also ideal for on the go.
Sardines
Sardines are a type of fish that is often consumed by large groups of people. They are often served in cans. Sardines or pilchards come in different types. The name sardines stems from the 15th century when this fish was regularly caught near Sardinia. The sardines are fished commercially and are used for different purposes. For example, it is used as bait, but also for consumption. The fish is either dried, salted, or smoked. The sardines' oily liquid is often used in the manufacture of paint, varnish, and linoleum.
Bistek
Bistek Tagalog is the Filipino version derived from the word steak. It is a common Filipino dish that has undergone a makeover. It is normally made with beef or pork marinated in calamansi or lemon juice, soy sauce and pepper topped with onion rings.
Ingredients:
Fried sardines, water, onion, soy sauce (fermented soybeans, water, wheat flour, salt), vinegar, sugar, soybean oil, thickeners (corn starch, E415), salt, flavor enhancer E621, artificial flavors (beef, lemon), (onion, black pepper, garlic) and acidity regulator E330.
Contains fish, soy, wheat.
Also known as: Gebakken Sardines Bistek
Country of origin: Philippines
Brand: 555
Code: 748485201061
Content: 155 gr