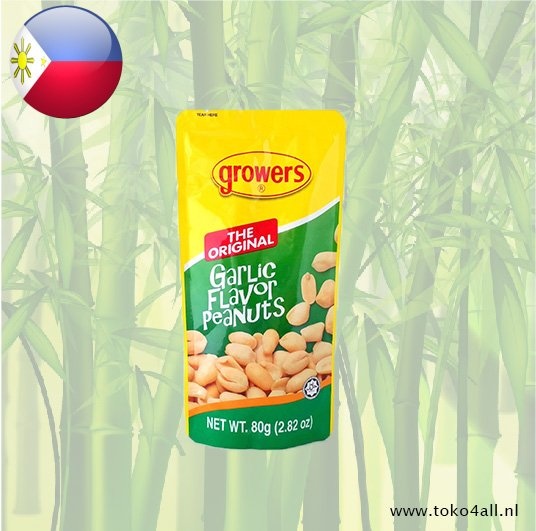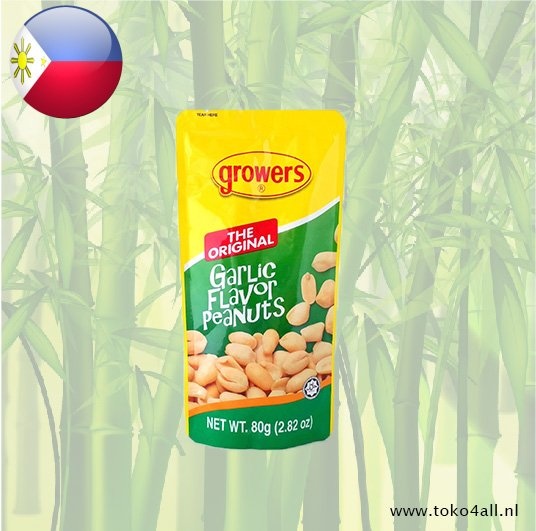 Garlic Flavor Peanuts 80 gr
€2,25
Garlic peanut from Growers is a delicious variation on the normal salted peanuts. Nice and fresh and very tasty as a variation.
Out of stock
(Delivery timeframe:Please contact us)
Garlic Flavor Peanuts
These peanuts are a true delicacy, wonderfully spicy and wonderfully crunchy. The sachet is easy to tear open and contains around 80 g of peanuts. The peanuts from growers do not contain trans fat and are 100% cholesterol-free. Delicious as a snack or on the go. Taste it and experience the taste of Growers. Now also available in the flavors Oriental Flavor Peanuts and Savory Hot Peanuts. Try them all and enjoy.
The Peanuts
Where can you find the fats that are good for you? The hall of fame for foods that contain these are the peanuts and nuts, avocados, olives, and some fish. Most people are unaware that the popular peanut is loaded with heart-healthy fats; more than 80% of the fat found in peanuts is composed of monounsaturated and polyunsaturated fats. These healthy fats can help keep blood vessels healthy and supple and lower cholesterol. Scientific evidence suggests but is not evidence, that eating a small amount per day or as part of a diet can reduce the risk of coronary heart disease.
Ingredients:
Peanuts, cereal solids, iodized salt, hydrolyzed vegetable protein, spices, coconut oil, monosodium glutamate (flavor enhancer), silicon dioxide (anticaking agent), and natural identical flavors.
Also known as: Growers Peanuts Garlic Flavour
Country of origin: Philippines
Brand: Growers
Code: 4800054111280
Content: 80 gr (2.82 Oz)