Dit is een diepvries product en kan alleen afgehaald worden of per DHL For You Same Day verzonden worden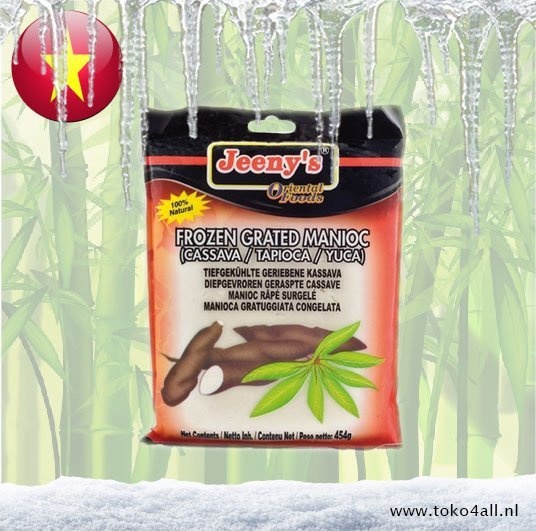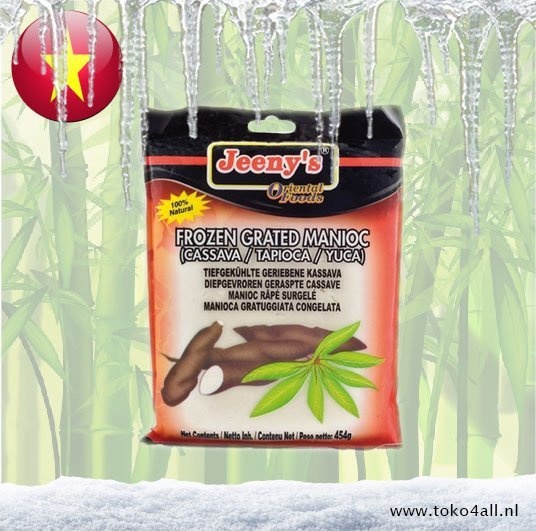 Grated Casava 454 gr
€2,10
Grated cassava from Jeenys is a ready-to-use frozen product made from 100% Cassava
CHOOSE DHL AS SHIPPING METHOD!
In stock (5)
(Delivery timeframe:1-3 days)
Grated Cassava
Cassava is an edible root tuber with dark brown rough skin and white meat. The basic product for tapioca flour. Cassava or manioc is originally a South American savannah plant. It is a plant species that can grow poor soil on very dry food. Around 1600 it was brought to Asia by the Portuguese. Cassava is an important food source in Asia. The Cassava is a long dark brown root tuber from the Manihot Esculenta plant. The meat is white and it is often grated and used for pastries and snacks. The starchy white carrot is steamed and eaten with sugar or grated and mashed in tapioca pasta or flour for Filipino delicacies such as Suman and Bibingka.
Recipe idea:
Defrost the frozen cassava until soft
Add about 80 gr frozen grated coconut, 150 ml coconut milk and 50 gr sugar and mix well together
Spoon the mixture into a greased refractory dish, and roast the whole for 30 minutes at a low temperature of about 150/160 degrees in the oven
Allow the oven to cool down. The dish can be served
Ingredients:
100% Cassava
Also known as: Frozen grated maniok, Geraspte cassava
Country of origin: Vietnam
Brand: Jeeny's
Code: 9556092980207
Content: 454 gr.
Dit is een diepvries product en kan alleen afgehaald worden of per DHL For You Same Day verzonden worden