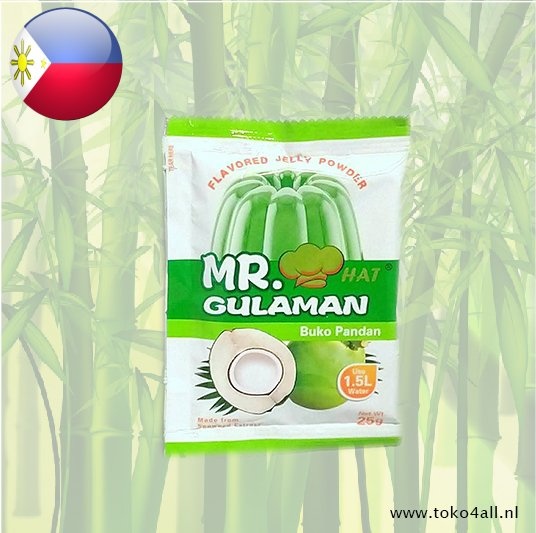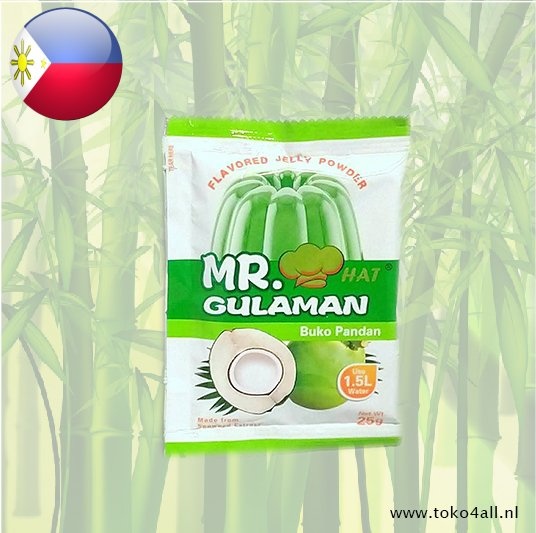 Gulaman Buco Pandan Jelly Powder Mix 25 gr
€0,95
Gulaman Buco Pandan Jelly Powder Mix from Mr. Hat is ready to use green jelly powder. Easy to make and delicious with fruit.
In stock (75)
(Delivery timeframe:1-3 days)
Gulaman Buco Pandan Jelly Powder Mix
Gulaman is a dessert from the Philippine cuisine. Mostly referred to the bars of dried seaweed used to make jellies or flan. Agar-agar is the other name and made of precessed seaweed dehydrated and formed into long dry bars. The Gulaman jelly is used in various Filipino refreshments or desserts such as sago at gulaman, buko pandan, agar flan, halo-halo, different varieties of Filipino fruit salads. The package contains jelly powder completely with sugar and pandan flavor
Differences between gelatine and gulaman
The term gelatine and gulaman are used synonymously in the Philippines, although they are very different products. While gelatine is a protein made from bones, gulaman is a plant-derived carbohydrate made from seaweed. This distinction makes gulaman suitable for those who may not eat gelatine for religious or cultural reasons, such as Muslims. Another big difference between those two is that Gelatine dissolves in hot water but boiling water is necessary to dissolve gulaman. Unlike gelatine which sets at refrigerator temperature, gulaman sets at room temperature
Directions:
Prepare 1.5 liters of water (not hot or hot) in a frying pan (the less water the firmer the jelly)
Gradually sprinkle a sachet from Mr. Gulaman in water until dissolved
Heat with constant stirring and wait until it boils (add sugar and milk to sweeten)
Pour the mixture slowly into the mold and let it cool
Ingredients:
Seaweed powder, sugar, coconut-pandan flavor, colors E133, E102.
Also known as: Gulaman Pandan Flavor Gezoet
Country of origin: Philippines
Brand: Mr. Hat
Code: 4809013526271
Content: 25 gr