This is a frozen product and can only be picked up or shipped within the NETHERLANDS via DHL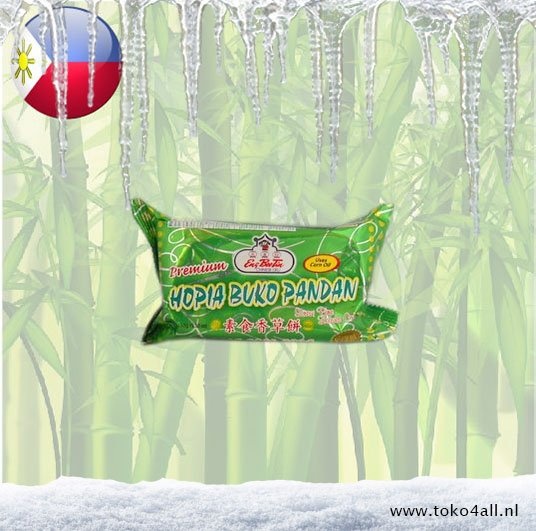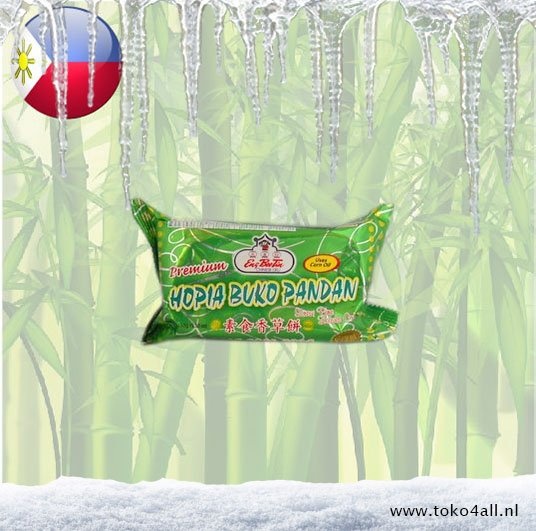 Hopia Buko Pandan 150 gr
€4,50
Hopia Buko Pandan are a kind of dough cookies with a mung bean filling. Delicious to eat as a snack and available with different types of fillings.
CHOOSE DHL AS SHIPPING METHOD!
In stock (17)
(Delivery timeframe:1-3 days)
Hopia Buko Pandan
Also called Bakpia is a popular Indonesian and Filipino moon cake-like pastry. This pastry is available with different fillings. It is widely available and fun as a treat or gift to friends or relatives. The dough is a kind of cake-like cookie dough. The cookies can be eaten hot or cold. Check out our website for the different types of fillings.
Buko
Also known as coconut or topper. This is a corruption of the Malaysian Kelapa. The coconut is actually not a nut but falls under the stone fruit. The coconut that comes on the market as dried coconut flour, grated or preserved, among other things, is often used in Asian cuisine. The coconut milk is obtained by mixing grated coconut with water and pressing it. The coconut milk is often confused with the moisture in the coconut itself. The coconut water is drinkable and is 100% bacteria free. Sugar can also be extracted from the palm of the coconut, of course known as palm sugar
Pandan
Pandan is a tropical plant. The plant is rare in the wild, but is cultivated especially for oriental cuisine. The pandan plant rarely flowers and is propagated by cuttings.
Pandan leaves are often used dried or fresh in various Thai and Indonesian dishes. The pandan leaves give a somewhat nutty taste, which is often compared to pistachio. The leaves are often freshly soaked in coconut milk so that the flavor of the pandan is easily absorbed into the dish.
Ingredients:
White beans, sugar, corn oil, palm oil, butter, wheat flour, coconut extract, pandan extract, iodized salt, FD&C Yellow No.5 (E102), FD&C Blue No.1 (E133).
Also known as: Hopia Buko Pandan
Land van herkomst: Philippines
Merk: Eng Bee Tin
Code: 4804889008210
Inhoud: 150 gr (5.30 Oz)
This is a frozen product and can only be picked up or shipped within the NETHERLANDS via DHL