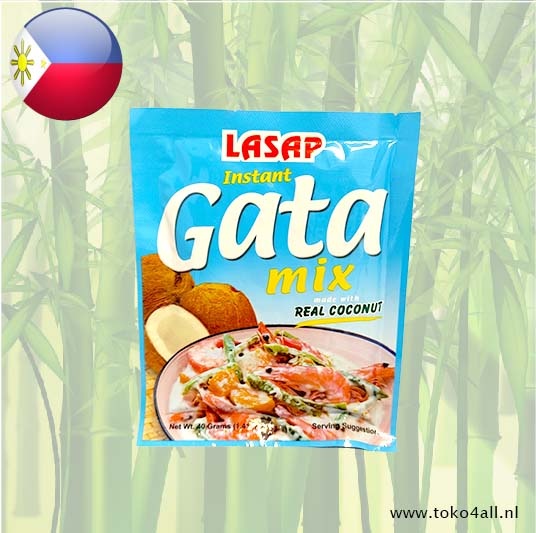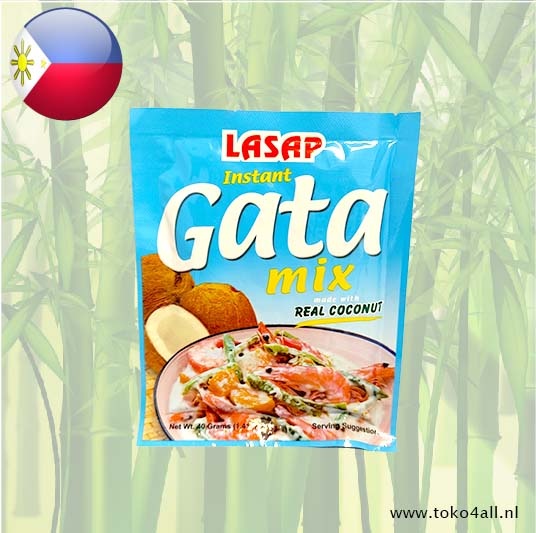 Instant Gata Mix 40 gr
€1,50
Instant Gata mix is a ready-made blend of coconut milk or coconut cream from Filipino cuisine. It is often used to impart dishes with a creamy and mildly sweet flavor.
In stock (9)
(Delivery timeframe:1-3 days)
Instant Gata Mix
Lasap Instant Gata Mix Made with Real Coconut. Elevate the flavor and nutrition of your coconut milk-based dishes effortlessly. You can use it in coconut milk recipes - add pumpkin, string beans, chicken, pork, and more. You can also create dishes like chicken pot pie, chicken curry, and more.
Preparation Instructions:
Dissolve Lasap Instant Gata Mix in 1 cup (240 ml) of water.
Bring to a boil while stirring.
Add 1/4 kg of vegetables, meat, or shrimp of your choice.
Bring to a boil and simmer with occasional stirring until it's cooked.
Serve and enjoy.
Ingredients:
Coconut Milk Powder, Cornstarch, Iodized Salt, MSG (Flavor Enhancer), Onion (Minced), and Ginger Flakes
Also known as: Instant Gata Mix made with Real Coconut
Country of origin: Philippines
Brand: Lasap
Code: 4804888168991
Content: 40 gr (1.41 oz)