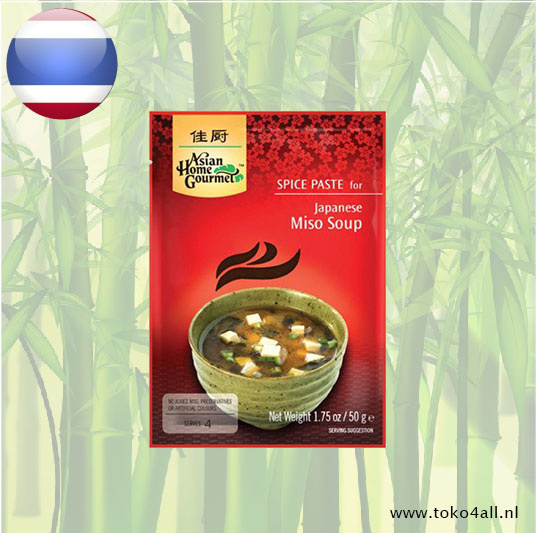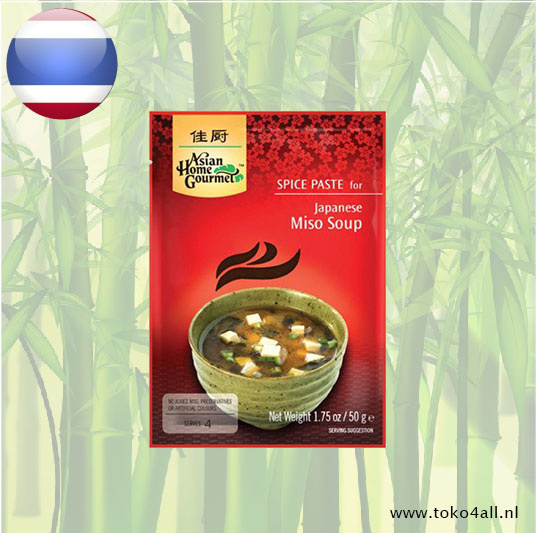 Japanese Miso Soup 50 gr
€1,40
Japanese Miso Soup is a ready-made pasta to make a typical Japanese soup yourself.
In stock (12)
(Delivery timeframe:1-3 days)
Japanese Miso Soup
Miso soup is a typical Japanese soup that is served almost daily for breakfast in Japan. Miso stands for soybean paste. In addition, Asian Home Gourmet Japanese Miso soup contains fish extracts, seaweed and herbs. Add fresh ingredients such as tofu, spring onions and water and you can conjure up a delicious mildly spiced Japanese delicacy in no time.
Necessities:
1 pack of spice paste spice paste for Japanese Miso soup
150 g (5.25 oz) "Silken" tofu, cut into small cubes
500ml - 605ml (2 1/2 - 2 3/4 cups) water or unsalted chicken stock
Fresh spring onions, chopped as a garnish
Preparation method:
Mix spice paste and water in pan
Bring the mixture to a boil. Stir every now and then
Add tofu and cook for 1 minute. garnish
Cooking Tips:
Meat or seafood may be used instead of tofu. Adjust cooking time accordingly
Miso Stir-Fried Seafood/Meat: Heat 1 tbsp oil in non-stick pan. Add 550g seafood (scallop or prawns) or sliced chicken meat, stir-fry for 5 minutes. Add spice paste and 100g (3.5 oz) vegetables (onions or carrots), stir-fry until cooked.
Ingredients:
Miso paste (soybean, rice, salt) (60%), soy sauce (soybean, wheat, salt, sugar), water, seaweed (roasted wakame flakes), bonito extract powder (dextrin, bonito extract), mackerel powder (fish), salt.
Also known as: Japanese Miso Soup 50 gr Asian Home Gourmet
Country of origin: Thailand
Brand: Asian Home Gourmet
Code: 8886390204523
Content: 50 gr (1.75 Oz)