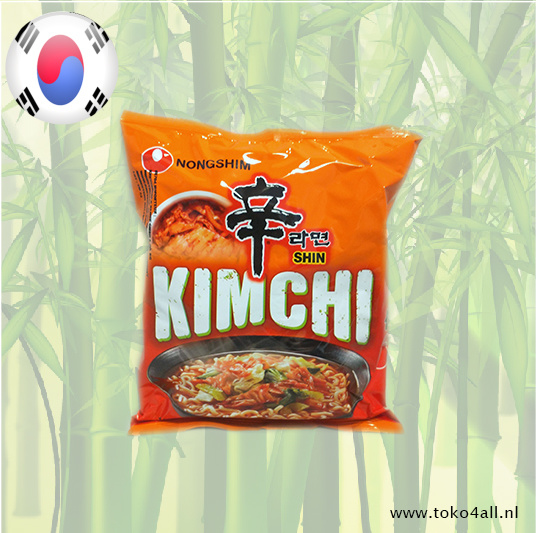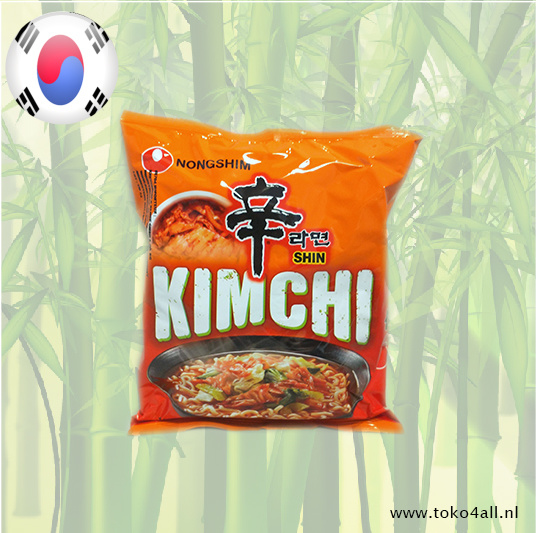 Kimchi Ramen Noodle Soup 120 gr
€1,55
Kimchi Ramen Noodle Soup from Nongshim is an instant noodle soup from Korea, tasty and easy and quick to prepare.
In stock (5)
(Delivery timeframe:1-3 days)
Kimchi Ramen Noodle Soup
These ramen noodles are used as a soup dish. The ramen noodles are thicker and firmer than the normal instant noodles. The ramen noodles are pre-cooked and have an attached aroma bag with herbs and vegetables. Kimchi (Korean style, pickled vegetables) tastes spicy, fresh and salty at the same time.
Kimchi
This is a Korean pickled vegetables. This dish can be made from different ingredients, for example, this can be Chinese cabbage or rettich. Kimchi is traditionally a vegetable that was used as a typical winter vegetable. The taste of this korean cabbage is of course very dependent on the basic ingredients, but in addition to the basic taste where you add Korean pepper powder you can also add garlic, ginger and spring. In korea it is very common to serve a number of small side dishes next to all main dishes. This is one of those with dishes. A meal without the Korean cabbage is actually unthinkable. This is also used as flavor improver in other dishes such as soups, stews and rice dishes. The traditional taste of this acid is fresh acid.
How to prepare
Add the noodles, soup mix and vegetables in a pan with 550 ml of boiling water.
Cook for 5 minutes
If necessary, add fresh vegetables and spring onions
Ingredients:
Noodles:
Wheat flour, potato starch, palm oil, salt, acidity regulators: E501, E500, E339, antioxidant: E306, emulsifier: E322 (contains soy), flavoring (yeast extract, soybeans, garlic, wheat starch), green tea extract, coloring: E101.
Seasoning powder:
Flavoring (maltodextrin, hydrolyzed vegetable protein (soy, wheat), salt, yeast extract, Senfòl), salt, sugar, flavor enhancers: E621, E627, E631, flavoring (maltodextrin, garlic, glucose, black pepper), acidity regulator: E330, coloring: 150c.
Vegetable flakes:
Kimchi Chinese cabbage flakes (Chinese cabbage, garlic, chili pepper), pak choi, carrot, green onion.
May contain barley, crustaceans, eggs, fish, peanuts, milk, celery, sesame seeds, and mollusks.
Also know as: Instant Kimchi Ramen Noodle Soup
Country of origin: Korea
Brand: Nongshim
Code: 8801043157742
Content: 120 gr