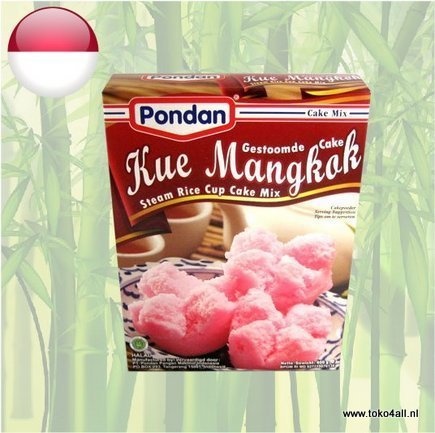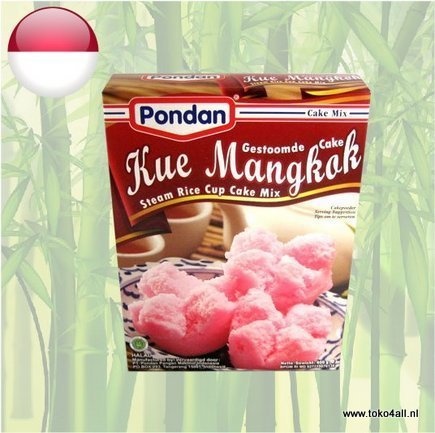 Kue Mangkok Steamed Cake 400 gr
€2,80
Kue mangkok, or also known as steamed cake, is a typical Indonesian dessert. One of the many mixes from Pondan.
Out of stock
(Delivery timeframe:Please contact us)
Kue Mangkok Steamed Cake
Kue Mangkok is a low-fat and healthy alternative to the cake as we know it. Have you never tasted a steam cake? Then we invite you to give this a try. You can add a flavor to this recipe to make it to your taste.
Necessities
- 400 ml of water
- Fermented Cassava (Optional)
Tip
If you do not want to use fermented cassava, you must reduce the water by 25 ml, so use only 375 ml of water.
For best results, use a steam basket (kukusan) with large holes. You can make 30 large or 45 small steam cakes from 1 pack of Kue Mangkok powder.
Preparation method
Put the steam pan on high heat.
Mix the crushed fermented cassava well with 400 ml of water and filter it.
Meanwhile, mix the Kue Mangkok powder with the instant yeast in a bowl.
Add the cassava mixture, mix well, then filter again.
Put the batter in bowls, fill them to almost full (The batter must be steamed immediately. If you leave the batter for a long time, the cookies do not rise to the maximum).
Steam them for 15 minutes, do not remove the lid from the pan while steaming.
Remove the bowls from the steam pan when they are cooked. Let them cool. Remove the cookies from the bowls. Ready to serve.
Ingredients:
Rice flour, sugar, baking powder, vanilla essence, salt, coloring (E127).
Also known as: Kue Mangkok Steamed Cake
Country of origin: Indonesia
Brand: Pondan
Code: 8992786100390
Content: 400 gr.