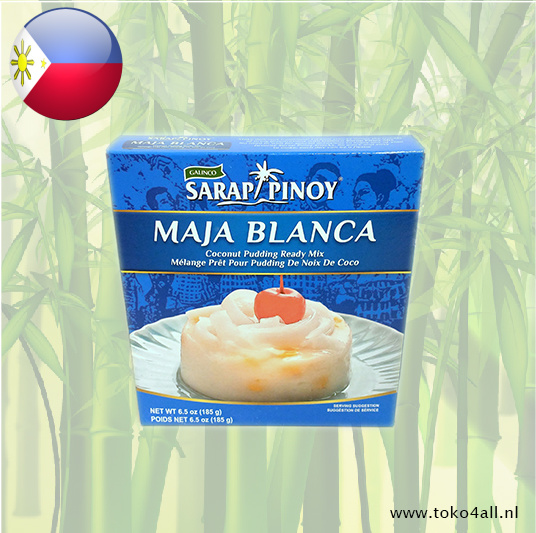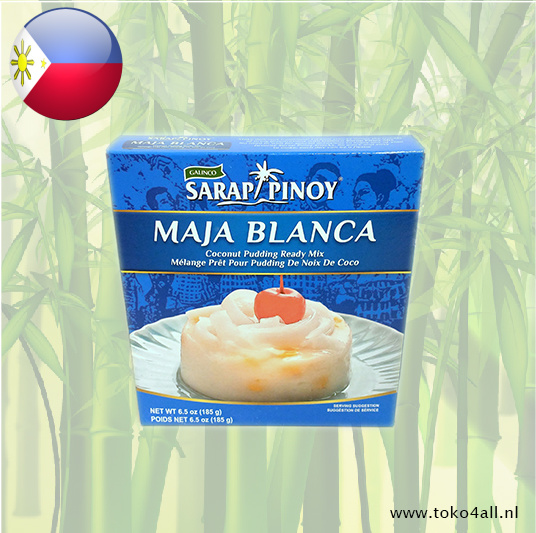 Maja Blanca Mix 185 gr
€2,35
Maja Blanca mix of Sarap Pinoy is a mix complete with coconut powder. Create this dessert quickly and easily.
In stock (10)
(Delivery timeframe:1-3 days)
Maja Blanca Mix
This is a traditional Filipino dessert with coconut milk as the main ingredient and is also known as coconut pudding. It is often served at celebrations and holidays. The maja blanca-is a gelatin dessert with a very good taste and creamy white color. As a variant, you also could make the Maja Ube, it then has as a main component purple Ube root.
Cooking Instructions:
Dissolve the Galinco Maja Blanca Mix completely in 1/4 cup water and set aside
Dissolve coconut cream powder in 1 1/2 cup warm water and bring to boil while stirring occassionally.
* optional: Add 1/2 cup sweet corn cream style
After boiling reduce heat into medium setting and add the maja blanca micture into boiling coconut cream. Stir constantly until mixture thickens or turns into paste (about 3-5 minutes)
Pour into mold and cool completely before serving
Ingredients:
Sugar, cornstarch, coconut powder, milk powder.
Also known as: Coconut Pudding Ready Mix, Mélange Prêt Pour Pudding De noix de Coco
Country of origin: Philippines
Brand: Galinco
Code: 4800552169066
Content: 185 gr (6.5 Oz)