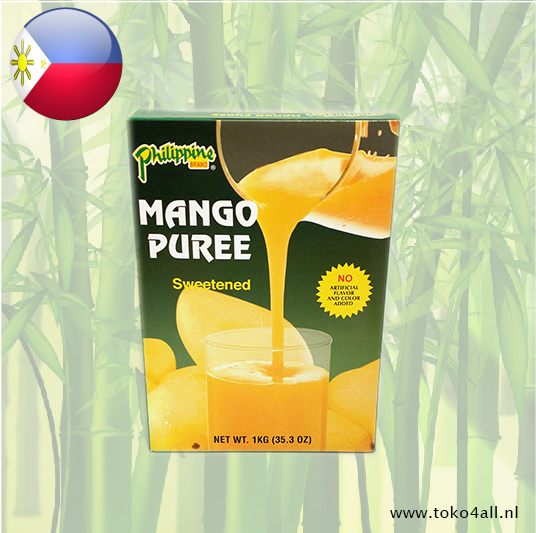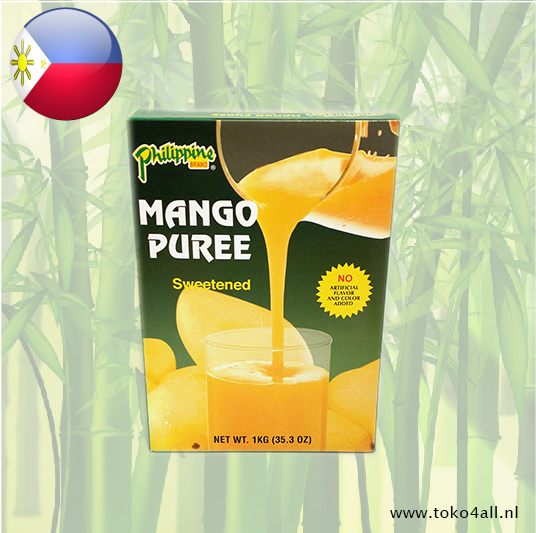 Mango Puree Sweetened 1 kilo
€6,25
Mango Puree from Philippine Brand is a delicious treat of this delicious tropical fruit with the real exotic taste of the Filipino mango.
In stock (32)
(Delivery timeframe:1-3 days)
Mango Puree Sweetened
This mango puree is an unsweetened variety and is perfect to use for your own made ice cream or dessert or of course the delicious mango drink. Treat yourself to the exotic taste of this irresistible tropical fruit. Once you've tasted the Filipino mango, I'm sure you do not want another mango anymore. From 1 pack of mango puree, you can make 4 liters of mango liquor, good for 12-15 glasses. Contains no artificial taste and colorants.
The Filipino mango
A Filipino mango is smaller than you are used to. In addition, it is yellow in color and is slightly oval in shape. The best thing is that the Filipino mango is the sweetest in the world. So very nice! Filipinos also eat the mango both green and ripe (yellow). If you like a slightly more acidic taste, eat it if it is still a bit green. For the lover of sweet, the yellow, ripe mango is delicious.
Preparation method:
Mix 1 part of mango puree with 3 parts of cold water
Add, stir and serve sugar to taste
Ingredients:
Mango, sugar, food acid: citric acid.
Also known as: Mango Puree Unsweetened, Puree de Mangue, Natural Fruit Pulp
Country of origin: Philippines
Brand: Philippine Brand
Code: 716221055223
Content: 1 kilo (35.3 Oz)