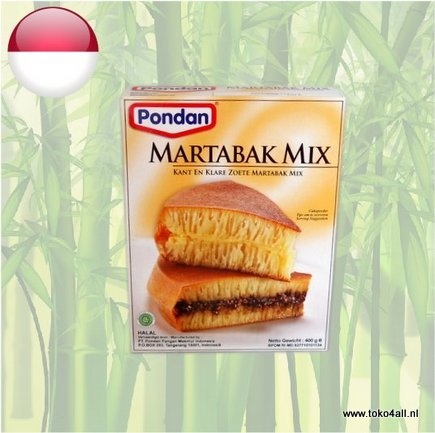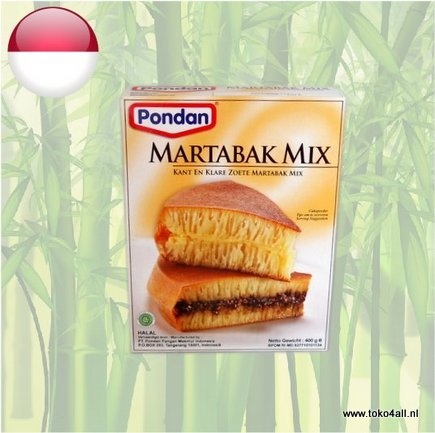 Martabak Cake Mix 400 gr
€2,95
Martabak mix from Pondan, a delicious ready-made sweet cake mix.
In stock (1)
(Delivery timeframe:1-3 days)
Martabak Cake Mix
This mix is a popular delicacy that is everyone's family favorite. Pondan now presents the Sweet Martabak Mix, ready to use and easy to prepare. This is a delicious dish for everyone in the family, it is a kind of double-folded pancake that can be made tastier with different types of fillings. Consider, for example, roasted ground peanuts, sprinkles, or sesame seeds. Condensed milk is often used as a topping. You can fill it as you wish.
Necessities
2 egg yolks
350 ml of water + 150 ml of water
60 g melted butter
Preparation method
Beat the pondan Martabak Mix egg yolk and 350 ml water with a mixer (medium speed) for about 10 minutes
Add the second portion of water (150 ml), stir it into a whole and let it rest for 60 minutes
Then weigh 285 g (300 cc) of the batter and add 20 g. butter (melted), stir it evenly
Place the batter in a pre-heated frying pan (24 cm.) With a non-stick coating (preheat for about 5 minutes over medium heat.)
Within a few minutes, holes form at the top, sprinkle sugar over the surface of the batter. Close it with a lid and leave on a small fire for about 3 minutes
As soon as the top looks dry, carefully loosen the side with a spatula. Carefully lift the martabak manis onto a cutting board
Spread the top with about 3/4 tablespoon of butter and spread the martabak manis with, for example, sprinkles, coarsely ground baked peanuts, grated cheese, sesame seeds
And finally you can add the condensed milk. Fold the martabak in half and spread the outside with a little butter
Ingredients:
Wheat flour, sugar, baking powder, vanilla essence, salt.
Also known as: Martabak Mix
Country of origin: Indonesia
Brand: Pondan
Code: 8992786200441
Content: 400 gr.