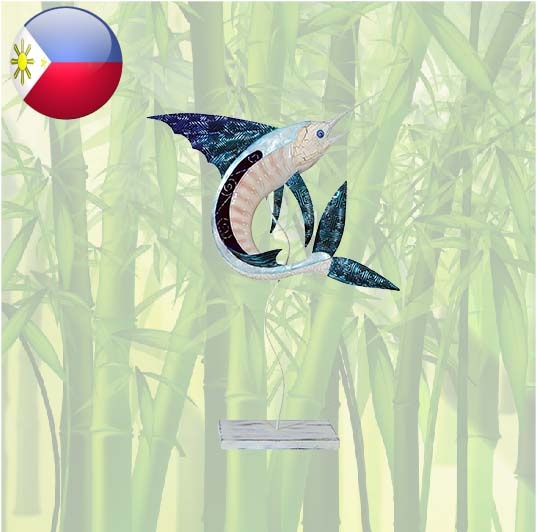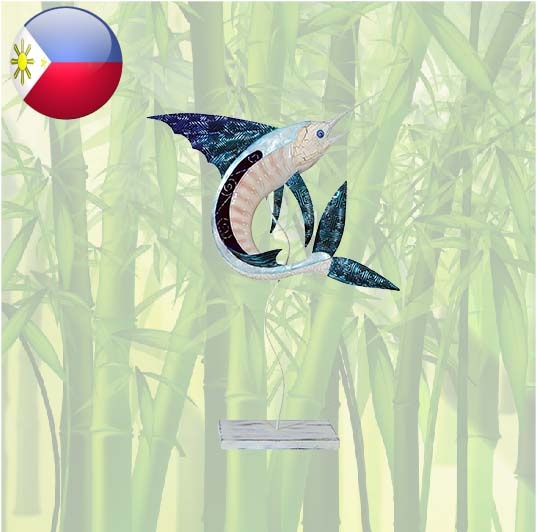 Metal swordfish with mother-of-pearl 47x36cm
€29,95
A metal swordfish with mother-of-pearl is a beautifully crafted metal rendition finished with exquisite mother-of-pearl
In stock (6)
(Delivery timeframe:1-3 days)
Metal swordfish with mother-of-pearl
Let yourself be enchanted by the sea and bring the magic of the ocean depths into your own home with our Metal Swordfish Sculpture with Mother-of-Pearl on a Beautiful Wooden Stand.
This stunning sculpture is a masterpiece of craftsmanship and refinement, with every detail carefully designed to bring the majestic swordfish to life. The swordfish itself is crafted from metal, with a glossy finish that captures the light and creates a beautiful reflection of the sparkling ocean. But what truly distinguishes this sculpture is the brilliant mother-of-pearl inlay that adorns the fish.
The mother-of-pearl, with its shimmering hues, reflects the colors of the sea, giving the swordfish a lifelike sense of movement and depth. Every scale and fin seems to dance with the light, and the swordfish's bill glistens like a precious treasure deep in the ocean.
Whether you're a lover of the sea, an admirer of art and craftsmanship, or simply seeking a striking decorative piece, our Metal Swordfish Sculpture with Mother-of-Pearl Inlay on Wooden Stand is sure to enchant you. Bring the ocean into your home and let this beautiful swordfish inspire you with its beauty and the stories of the deep sea.
Mother-of-pearl
Mother-of-pearl, also called nacre or Capiz in Filipino, is an oyster-like shell called Placuns Placenta. These shells are commonly known as pearl oysters. The Capiz shell has a light-transmitting character and is often used for windows and lamps in the Philippines. These shells do not belong to protected marine animals, and fishing for them is legal. In addition to their use in windows and lamps, these shells are also widely used in art objects. By keeping the shells moist after catching them, they can be shaped slightly before pouring a resin over them. The shells are composed of various layers lying on top of each other. The thickness of the layers can vary by mollusk group. Real mother-of-pearl can be used as glass for windows, but it is much more fragile. However, it is also much cheaper than glass.