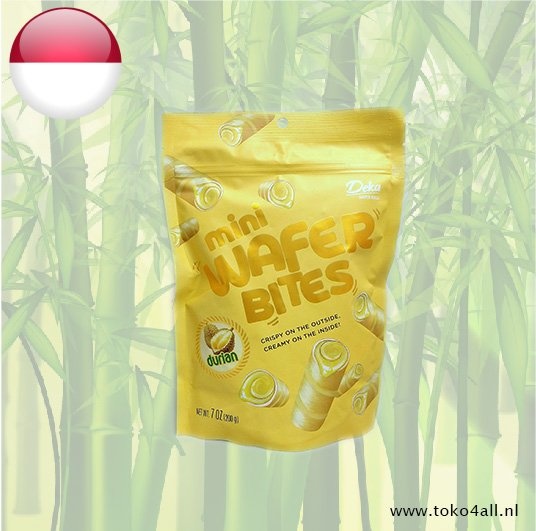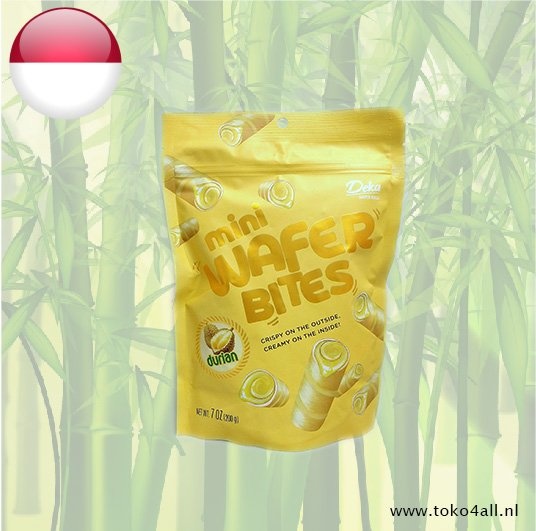 Mini Wafer Bites Durian 200 gr
€2,95
Mini Wafer Bites Durian is wonderfully crispy oublie rolls with an aroma of durian. Tasty for in between but also on a dessert
In stock (5)
(Delivery timeframe:1-3 days)
Mini Wafer Bites Durian
These waffle rolls are immensely popular and delicious as a snack. The rolls have cream on the inside with the taste of durian. You can compare these roles with old ones. Nice to present with a cake or with your ice cream dessert. Success is guaranteed because of its striking colors. Also available in various flavors of the Stik-O brand such as the Ube, buco pandan, Mocca, chocolate and strawberries.
Durian
The durian, also called durian, is a large fruit that can reach 15 to 30 cm and can weigh 8 kilos. The skin has hexagonal thick spines. The fruit has five fruit chambers inside with seeds that can be 6 cm. The seeds have the outside of a thick cream-colored dark yellow pudding-like flesh. This flesh tastes sweet and aromatic. When the fruit is ripe, it gives off a strong pungent odor that arises from hydrogen sulfide. Thanks to this property, the fruit has also been given the nickname of nitrogen. The seeds are not raw to eat but are roasted, but a delicacy.
Ingredients:
Sugar, vegetable fat (palm oil), wheat flour, whey powder, milk powder, maltodextrin, corn starch, coconut cream powder (contains coconut extract, maltodextrin, sodium caseinate, tricalcium phosphate), anhydrous dextrose, wheat fiber, salt.
Also know as: Mini wafer bites Durian
Country of origin: Indonesia
Brand: Dua Kelinci
Code: 838452006482
Content: 200 gr (7 Oz)