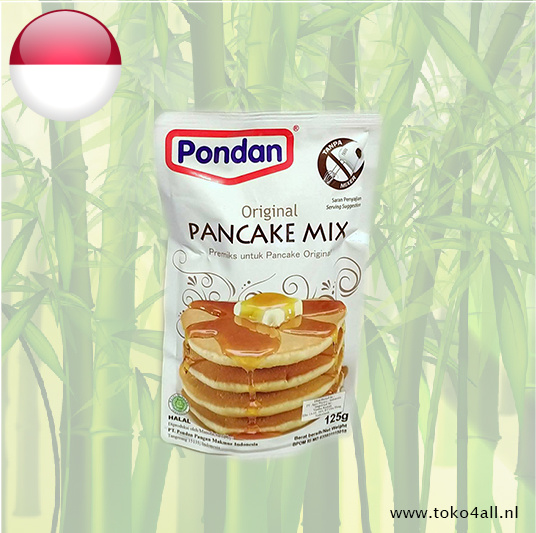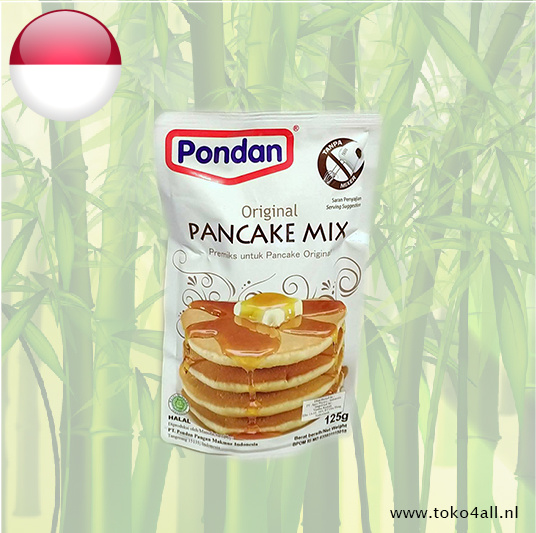 Original Pancake mix 125 gr
€1,25
Original Pancake Mix from Pondan is a mix that makes a delicious pancake mix in an instant
In stock (5)
(Delivery timeframe:1-3 days)
Original Pancake mix
These pancakes are immensely popular in Asia, especially for breakfast or lunch. The pancakes are thicker than the way we eat them. Delicious with powdered sugar, jam, honey or something savory.
Necessities:
1 pack of Pondan Pancake mix
1 dl of water
1 egg (L) 65 gr
Preparation method: (good for around 6 pcs)
Mix the pancake mix with the water and egg together into a smooth batter for about 5 - 10 seconds (not too long otherwise the batter will become too watery and the pancake will remain thin)
Heat a frying pan and a little butter in it
Put 1 large spoonful of batter in a frying pan
Bake the batter until it starts to cook on 1 side, turn it for another 5 to 10 seconds
Serve with syrup or honey
Ingredients:
Wheat flour, sugar, skimmed milk powder, cornstarch, baking powder [raising agent (sodium carbonate E500, sodium polyphosphate E450(i))], vanilla flavor, salt, emulsifier [mono- and diglycerides of fatty acids E471, milk acid esters of mono- and diglycerides of fatty acids E472b, propylene glycol esters of fatty acids E477].
Also know as: Original Pancake Mix, Premiks untuk Pancake Original
Country of origin: Indonesia
Brand: Pondan
Code: 8992786400230
Content: 125 gr