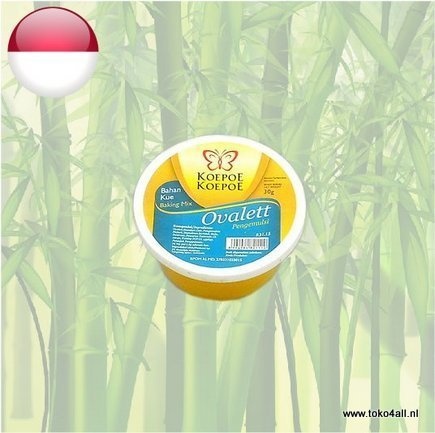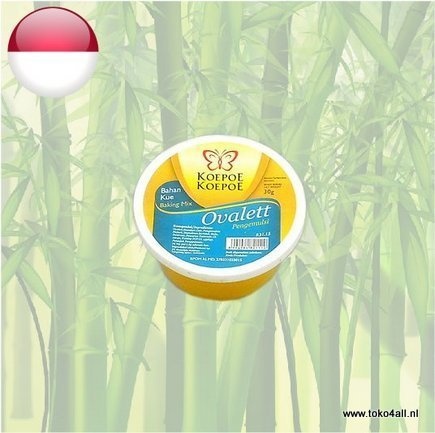 Ovalett 30 gr
€1,50
Ovalett is a type of emulsifier and stabilizer. You do it through the batter of a cake or chiffon cake, to make it softer and smoother in structure.
In stock (30)
(Delivery timeframe:1-3 days)
Ovalett
Also known as Pegembang Kue. Ovalett is an emulsifier specially developed to make the self-baked cake even softer and lighter in structure. When using this product, your batter is easier to beat. It remains stable for longer in an unbaked situation. When using, you must take into account a ratio of 6 to 7% of the flower weight. This product is also great to use for beating egg foam. Together with Ovalett, you produce a perfect sponge cake that will retain its excellent taste for longer and has a longer shelf life. Koepoe Koepoe has a wide range of products, look further on our website and discover the articles of Koepoe Koepoe.
TBM, Ovalett, SP
Of these 3, Ovalett is the basic version. The difference with the TBM and SP is that extra yellow color has been added to TBM and that a vanilla flavor has been added to the SP. The operation is otherwise the same.
Ingredients:
Sorbitol, water, distilled monoglycerides, propylene glycol, carotene color.
Also known as: Bahan Kue Baking Mix, Pengemulsi, ovalette
Country of origin: Indonesia
Brand: Koepoe Koepoe
Code: 8992984821110
Content: 30 gr.