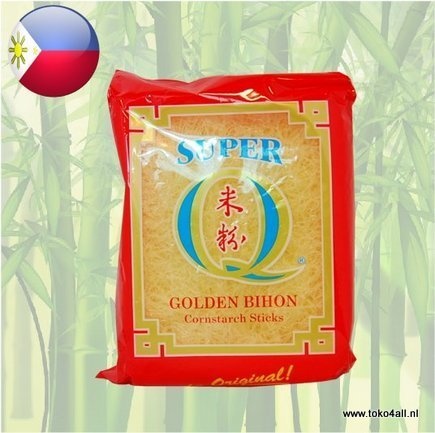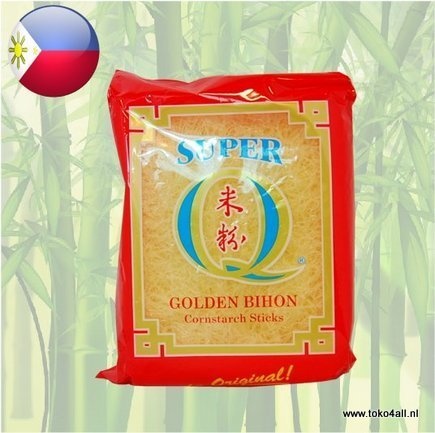 Pancit Bihon Noodles 227 gr
€1,25
Pancit bihon noodles from Super Q are very fine noodles made from corn starch. Nice to make the traditional Pancit Bihon dish
In stock (23)
(Delivery timeframe:1-3 days)
Pancit Bihon Noodles
These bihon noodles are similar to glass noodles, only these noodles are made from corn starch. This also explains the golden color of the noodles and why they are also called Golden Bihon noodles. These noodles are used for wok dishes, the best known being the Filipino Pancit-Bihon. The fine noodles absorb the taste perfectly and easily. These noodles are also available in a 454 gr package.
How to prepare:
Necessities:
1 clove of garlic
1 onion
1 tablespoon of oil
350 gr peeled shrimps
1 packet of Pansit Bihon mix
500 ml of water
300 gr mixed vegetables
227 gr Pansit Bihon Noodles
Preparation method:
Clove of garlic, onion in the oil to fry
Add the shrimps and fry
Dissolve the contents of the packet Pancit Bihon Mix in water and bring to the boil
Add the Bihon sauce with the vegetables and cook for 2 minutes.
Add the raw bihon to all ingredients and simmer until tender.
Add water if necessary
Ingredients:
Corn starch, water, stabilizer E452.
Also known as: Golden Pancit Bihon Corn Noodles
Country of origin: Philippines
Brand: Super Q
Code: 4806011812054
Content: 227 gr (8 Oz)