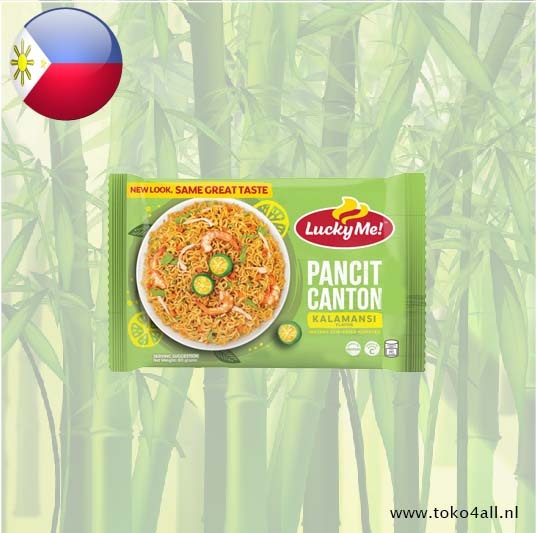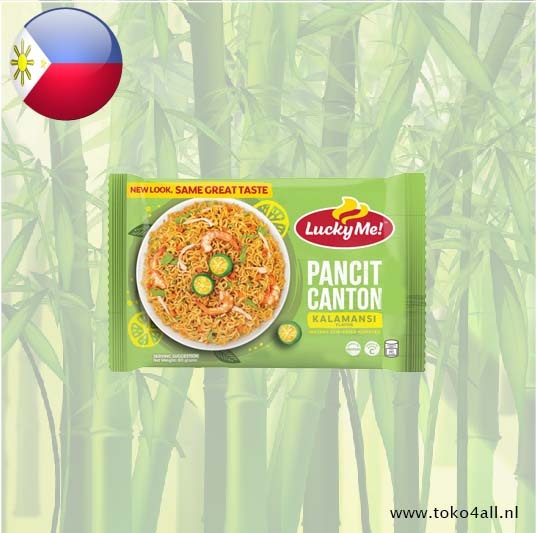 Pancit Canton Calamansi 80 gr
€1,15
Pancit canton Calamansi from Lucky Me is an easy to prepare instant noodle meal. New packaging, same great taste!
In stock (334)
(Delivery timeframe:1-3 days)
Pancit Canton Calamansi
Pancit canton is a delicious and easy to prepare instant noodle dish. You can add anything yourself to make it complete, although this base is delicious in itself. Try it with fried luncheon meat or satay or even a fried egg. Even more varied flavors are available from Lucky, so there is something for everyone. Taste the different flavors.
Calamansi
Also known as the Calamondin fruit. The plant can reach a height of 2 to 7.5 meters. The leaves are broad-oval and glossy on top. The fruits are round to spherical and up to 5 cm wide. The peel is green and looks a bit like the lime we know, only slightly smaller. The flesh is very juicy and has a sour taste. The fruit is used in many dishes in the Filipino kitchen, especially with various fish dishes. Various soft drinks or fruit juices are also available from the Calamansi fruit.
Preparation method:
Cook the noodles in boiling water for 3 minutes.
Mix the flavor enhancer, soy sauce and oil into a paste.
Drain the noodles and mix the pasta with the noodles.
Stir well and it is ready to serve
Ingredients:
Noodles:
Wheat flour, vegetable oil (palm oil, green tea extract), salt, stabilizer E412, acid regulator E500, E501, emulsifier E452, flavor enhancer, coconut oil, soy sauce (water, soybeans, salt, preservative E202), maltodextrin, flavor enhancer E621, E631, E627, cane sugar, chicken flavor, dried vegetables (carrot, chives), acidity regulator E330, spices (onion, garlic), coloring E150, citrus flavor.
Also known as: Instant Pancit Canton Calamansi
Country of origin: Philippines
Brand: Lucky Me!
Code: 4807770273674
Content: 80 gr.