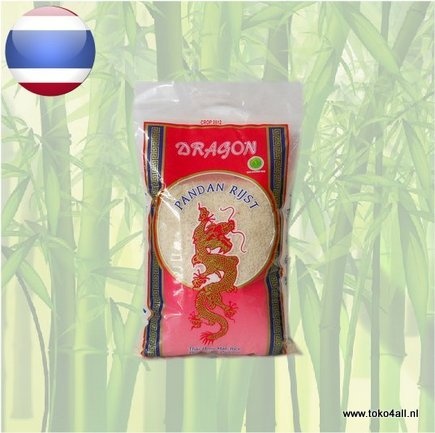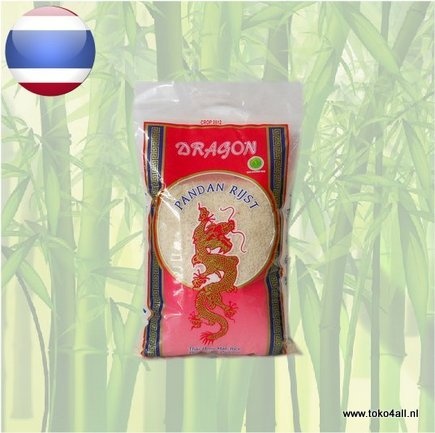 Pandan Rice 10 kg
€34,95
Pandan Rice from dragon is high quality rice with characteristics shiny solid grains, which after cooking has a typical natural pandan arome.
In stock (1)
(Delivery timeframe:1-3 days)
Pandan Rice
Dragon Thai Hom Mali Rice is growing in the north-eastern part of Thailand where the type of soil and the climate are a guarantee for the high quality of this type of rice. Characteristics are the shiny solid grains, which after cooking turn out to be delicious in taste with a typical natural arome.
Jasmine Rice Or Pandan rice
Jasmine rice is a long grain rice variety from the region of Thailand, Cambodia and Vietnam. The rice has a wonderfully nutty aroma and taste that is a bit like pandan. The jasmine is often sold under the name of pandan rice, in principle there is not much difference between pandan and jasmine rice. Originally, jasmine rice should give off a more floral scent and pandan rice has more of the pandan aroma in the rice. Furthermore, both rice types are almost the same in terms of preparation method or structure.
Cooking Method
Put 2,5 cups of water to the boil
Stir in 1 cup of rice
Add salt (optional)
Cover Tightly, lower heat and simmer for 18-20 minutes
Remove from the heat, cover and let it stand for a few minutes before serving
Ingredients:
Pandan rice
Also know as: Pandan Rijst, Thai Hom Mali Rice
Country of origin: Thailand
Brand: Dragon
Code: 9310432080244
Content: 10 kilo