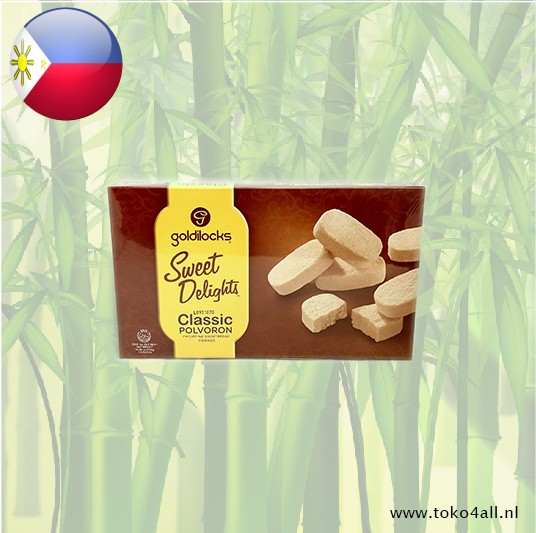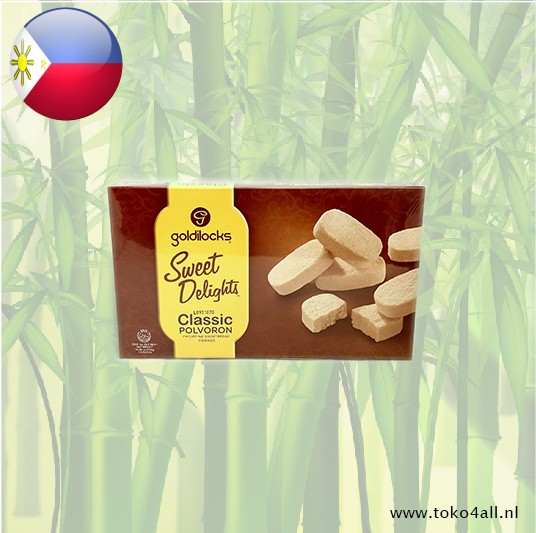 Polvoron Classic 300 gr
€8,25
Polvoron classic from Goldilocks is the best-selling Polvoron brand in and outside the Philippines. Enjoy this soft biscuit with a creamy taste.
In stock (15)
(Delivery timeframe:1-3 days)
Polvoron Classic
A Polvoron (From polvo, the Spanish word for powder or dust; Cebuano: polboron; Tagalog: pulburón) is a type of biscuit made of flour, sugar, milk and nuts. Traditionally, this is a Spanish biscuit mainly produced in Andalusia. During the Spanish occupation of the Philippines, this biscuit was also a success among the Filipino population. The Filipino version of Pulvuron as it is called in the local vernacular is made from powdered milk, toasted flour, butter, or margarine. Various flavors of the polvuron are available, including the Pinipig (with roasted rice), ube flavor, and a variant with a chocolate layer. Goldilocks is the number one chain in the Philippines with several bakeries and stores throughout the Philippines. A box of goldilocks classic contains 12 polvorons.
Ingredients:
Wheat flour, skimmed milk, partially hydrogenated vegetable fat (coconut oil, palm oil), sugar, flavoring.
Also know as: Goldilocks Polvoron
Country of origin: Philippines
Brand: Goldilocks
Code: 4800111008027
Content: 300 gr. 12 pcs