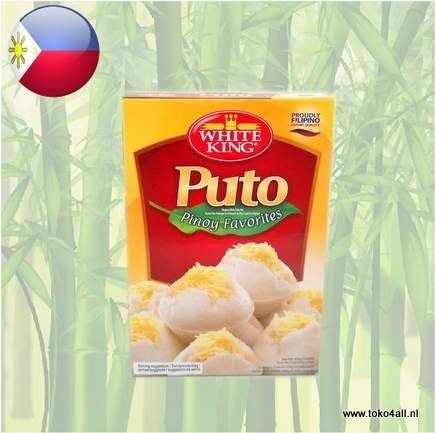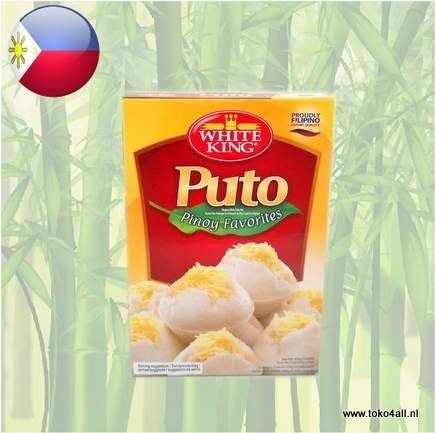 Puto Steam Cake Mix 400 gr
€2,90
Puto steam cake mix from White King is a Filipino delicacy. Easy to make and healthier than the normal cake types.
In stock (26)
(Delivery timeframe:1-3 days)
Puto Steam Cake Mix
Puto is a kind of steamed rice cake mix, usually served as a snack or as a side dish with savory dishes such as dinuguan or pancit in Filipino cuisine. You can vary the steam cake in many ways, for example by adding cheese as a topping. You can also add aromas such as pandan, coconut and you can give it different colors to make it stand out and look colorful.
The puto is also delicious as a snack. Puto Mix from White king is easy to make and much healthier than the traditional cake as we know it. The structure is airy and soft and does not need to be prepared in an over. The best way to prepare this mix is in a steam pan, in tins or one baking tin.
Necessities
240 ml of water
100 g sugar
5 teaspoons of oil
1 bag of puto mix 200 gr. (2 bag present per pack)
knob or liquid butter
Preparation method
Put your steam pan on the fire
Mix 1 bag of puto mix with 240 ml of water.
Add the sugar and mix for 30 seconds until smooth.
Add the oil and mix again for 30 seconds.
Put the batter in for lightly greased molds.
Steam the batter for approximately 15-20 minutes. The Puto is cooked when it looks like the structure is resilient.
To see if the batter is really cooked, you can pierce the batter with a skewer, if it comes out dry then it is good.
When done, you can rub the top with a little butter and sprinkle with grated cheese
You can make approximately 10 cakes from 1 bag.
Ingredients:
Bromate-free wheat flour, milk powder, raising agent (E500), iodized salt, emulsifier (E471), vanilla.
Also know as: Puto Steam Cake Mix
Country of origin: Philippines
Brand: White King
Code: 4800110091556
Content: 400 gr