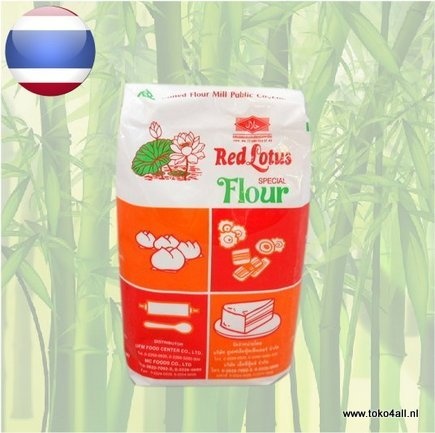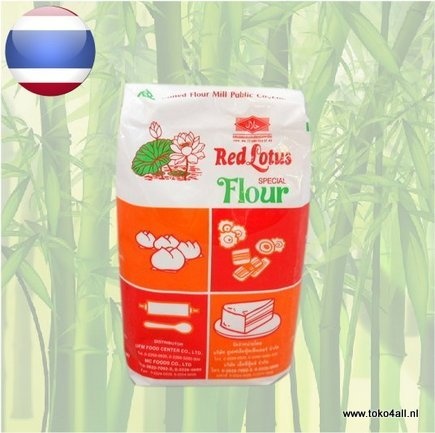 Red Lotus Bapaoflour 1 kilo
€4,95
Red Lotus bapo flour is perfect for bapao but to be made because of its fine structure. This flour is also great for other pastries.
In stock (1)
(Delivery timeframe:1-3 days)
Red Lotus Bapaoflour
Red lotus bapa flour is actually just wheat flour, but because of its fine structure and the lower content of gluten, it is ideal for bapao dough. the white flour makes for a nicer bapao and the fine structure of the wheat flour makes for a dough that is lighter, softer than if you were to use the usual normal flour types that are available here in supermarkets.
Necessities
400 gr Bapao Flour
210 ml Water
100 gr sugar
50 gr Crisco shortening
13 gr dry instant yeast
8 gr baking powder possibly
1 gr Bread Improver
1 pinch of salt
Preparation method
Sift the flour and baking powder directly into the mixing bowl of the electric mixer
Add a pinch of salt and sugar
Add the dry yeast and then add lukewarm warm water
Use the dough hook and mix it
Then add the Crisco shortening
Mix the dough first to the low setting and then to a slightly higher setting
Pre-mix the dough for 12 minutes until you have a dry dough
Remove the dough from the mixer and place it in a lightly greased stainless steel or plastic bowl
Cover the dough with a plastic foil or a damp tea towel, and place it near something warm such as on a radiator
Let the dough rise for 30 minutes
Put a steam pan on and heat it in the meantime
When the 30 minutes have passed, divide the dough into 16 dough balls and let them rise again under a damp cloth for 15 minutes
Press the balls flat and place a filling on them and close them again
Let the dough rise again for 15 minutes
Steam the bapao dough with the filling in the steam pan for about 15 minutes.
You can make the bapao filling according to your own ideas, but be aware that the meat or chicken should have a slightly stronger taste because the dough is naturally soft in taste.
For more information take a look at this English site Bapao recipe
Ingredients:
100% Wheat flour
Also known as: Red Lotus Special Flour, wheat starch
Country of origin: Thailand
Brand: United Flour Mill Public Co. Ltd
Code: 8850310000731
Content: 1 kilo