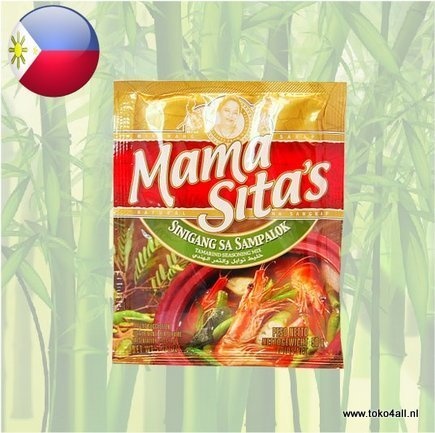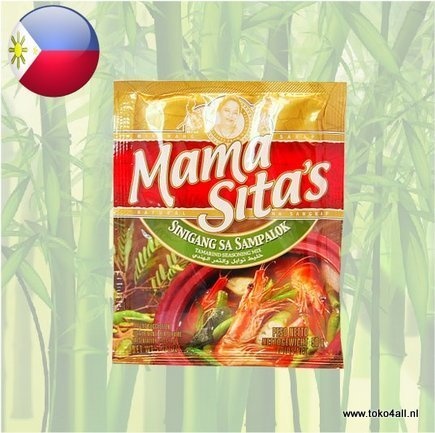 Sinigang Sa Sampalok Mix 50 gr
€1,40
Sinigang Sa Sampalok Mix is an exceptionally delicious, sour, and thick broth.
In stock (46)
(Delivery timeframe:1-3 days)
Sinigang Sa Sampalok Mix
This mix has been specially developed to make it even easier to put a delicious Sinigang soup on the table. This blend has been carefully stewed and produces a delicious broth that everyone can enjoy. This mix serves as the basis for your sinigang broth.
Sinigang
Sinigang is a Philippine dish consisting of meat or seafood and vegetables simmered in a sour broth, often with a base of rice washing (water used to rinse rice). The sour soup goes well with rice, the staple food of all Filipinos. Because of this, as well as its use of native ingredients it is considered the national dish of the Philippines. Fish, pork, chicken, shrimp, or beef may be used for sinigang. There are usually leafy vegetables: Gabi (taro), siling labuyo (red chili), or malunggay leaves, or kangkong (water spinach). Other vegetables cooked in sinigang may include okra, radish, eggplant, tomatoes, sitaw (snake beans), and string beans. The vegetables are chosen to complement the dish's flavor.
The Flavor
The flavor of sinigang comes mainly from the souring agent used. The souring agent is chosen to complement the meat used in the dish. Sour fruits such as sampalok (tamarind), kamias, sineguelas, and bayabas (guava) are most commonly used to flavor the broth. These days, powdered mixes and bouillon cubes come in some of these flavors and may be used instead for convenience.
How to prepare:
In a saucepan, combine 2,5-liter water, 150 gr sliced tomatoes and 90 quartered onion and bring to boil
Simmer for 5 minutes
Add content of the pouch
Increase the heat and bring to the boil
Add 1 kg fish (or shrimps or pre-boiled beef or pre-boiled pork)
Add 400 gr sliced Chinese radish, 200 gr of cut long green beans, 4 green peppers, and fish sauce to taste
Cover and simmer 3 minutes until fish is cooked
Turn off heat and add 200 gr leafy green, such as kangkong or spinach
Cover to steam-cook vegetables
Serve hot with rice
Ingredients:
Salt, citric acid E330, sugar, flavor enhancers E621 and E635, tamarind flavor, shrimp extract, onion, tomato, color E150c, corn starch and spices.
Also known as: Sinigang Sa Sampalok, Tamarind Seasoning Mix
Country of origin: Philippines
Brand: Mama Sita's
Code: 4804888804158
Content: 50 gr (1.74 Oz)