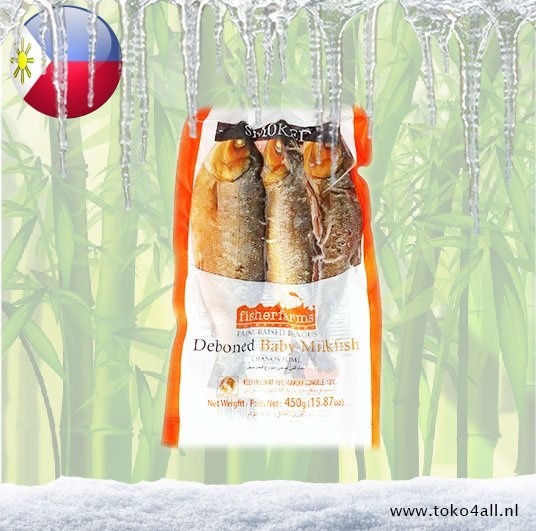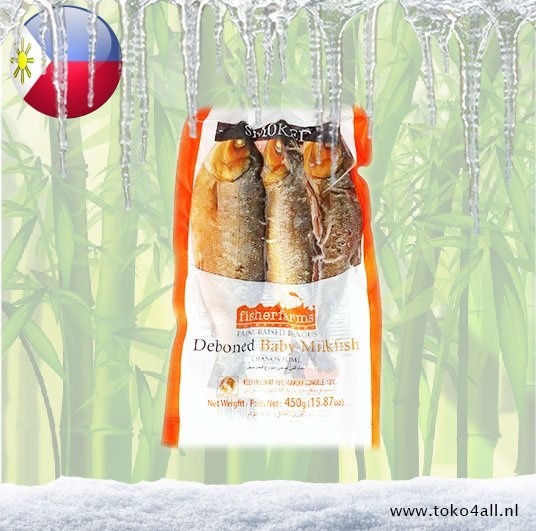 Smoked Deboned Baby Milkfish 450 gr
€8,95
Smoked Filleted Baby Milkfish from Fisherfarms, premium selected fish from their own nursery. Delicious pickled and smoked. Now in a multi-pack.
In stock (12)
(Delivery timeframe:1-3 days)
Smoked Deboned Baby Milkfish
This smoked Milkfish has been excavated but can still contain some bones despite all the trouble, so be careful here. This product is free from flavor enhancers, artificial colors, and preservatives.
Milkfish
The bandeng also called the Chanos or bangus (Philippines), is a ray of finned fish from the family of band genes, order of sandfish. This species is the only species in the genus Chanos. This fish has a streamlined, silver-colored body with a large, deep-forked tail fin. It can reach a length of 180 centimeters and a weight of up to 14 kg. The highest registered age is 15 years. The bangus is found in both fresh and saltwater. The species has also been observed in brackish water. The species is found in tropical waters in the Pacific and the Indian Ocean and in the Red Sea at a depth of 0 to 30 meters. The bangus is of great commercial importance for fishing. The larvae are massively collected and grown in ponds for the market in Southeast Asia and Oceania.
Ingredients:
Milkfish, water, salt.
Also known as: Gerookte gefileerde Baby Milkfish
Country of origin: Philippines
Brand: Fisherfarms
Code: 4806510860266
Content: 450 gr (15.87 Oz)