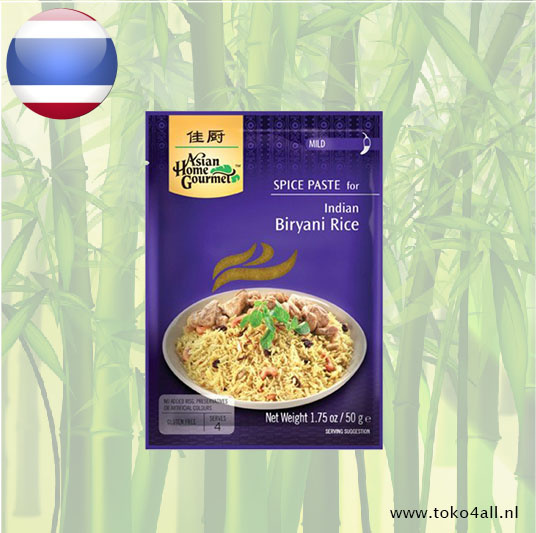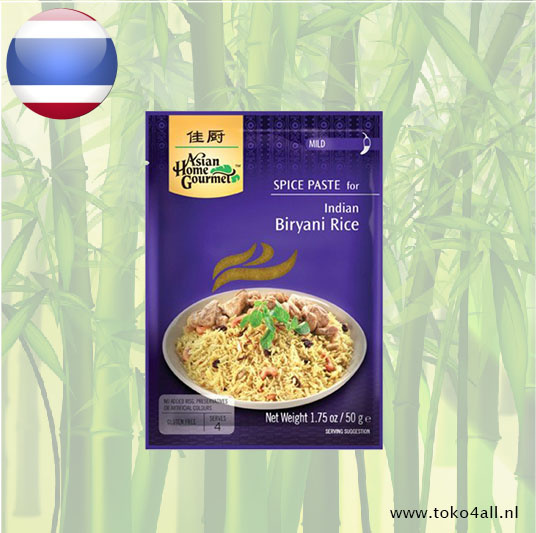 Spice paste for Indian Biryani Rice 50 gr
€1,50
Spice paste for Indian Biryani Rice, a typical Indian meal always includes a rice dish with spicy hot curries. This colorful Biryani rice garnished with raisins and roasted almonds gives a festive touch to your dinner.
In stock (14)
(Delivery timeframe:1-3 days)
Spice paste for Indian Biryani Rice
The most popular curry in Thailand is the red curry. Asian Home Gourmet Thai Red Curry is a blend of herbs and spices that gives any curry dish a sharp and spicy taste. Try the Asian Home Gourmet Thai Red Curry with your spicy curry dishes – without flavor enhancers, preservatives, or artificial colors
Necessities:
1 packet Indian Biryani Rice Spice Paste
250g (1/2 lb) boneless chicken breast or thigh, cut into bite-sized pieces
3 tbsp yoghurt
2 tbsp melted butter or vegetable oil
1 cup (220g) uncooked rice or basmati rice (1 cup = 220 ml)
1 cup (220 ml) water
1/4 tsp turmeric powder (optional)
85g (3 oz) raisins and nuts or mint leaves as garnish (optional)
Preparation method:
Marinate meat with yoghurt for 10 minutes. Heat butter or oil in non-stick pan on medium-high heat. Add marinated meat and stir-fry 1 minute, Set aside
Put rice, water, turmeric and Spice Paste in non-stick saucepan. Stir-well and bring to boil
Add chicken mixture, cover and cook on low heat for 15 minutes. Leave to stand for 10 minutes. Garnish, stir well and serve hot
Cooking Tips:
Snow peas, mushrooms or vegetables of your choice can be used instead of meat.
Ingredients:
Soybean oil, onion, mint leaves, shallots, coriander, salt, garlic, ginger, peppers, herbs and spices, cayenne pepper, ground turmeric, cumin, acidity regulator (citric acid).
Also known as: Indiase Biryani Rijst pasta
Country of origin: Thailand
Brand: Asian Home Gourmet
Code: 8886390202086
Content: 50 gr (1.75 Oz)