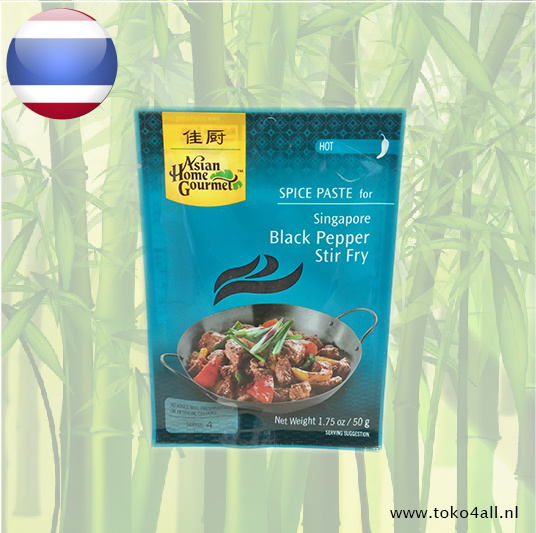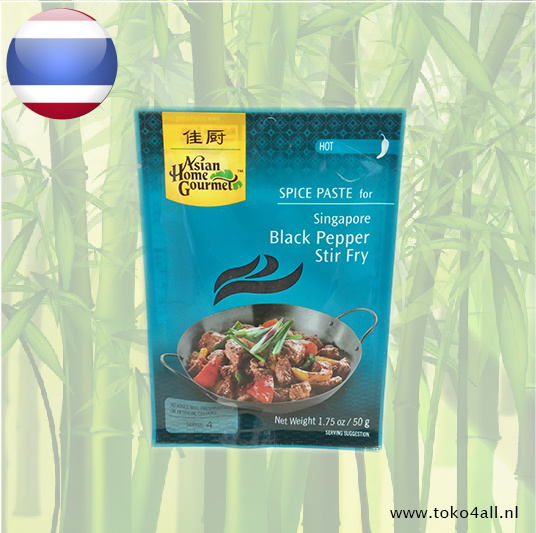 Spice paste for singapore black pepper stir fry 50 gr
€1,50
Herb paste for black pepper stir-fry dish is a basic paste to put a delicious stir-fry dish on the table with, for example, beef or chicken.
In stock (25)
(Delivery timeframe:1-3 days)
Spice paste for singapore black pepper stir fry
Wok dishes are of course available in Asia in different types, one of the most well-known to us is often the black pepper variant. Delicious with beef, lamb or chicken. For seafood lovers there is of course also room with this basic that should not be missing in the kitchen.
Necessities
1 pack of spice paste for Singaporese stir-fry dish with black pepper
1-2 tbsp vegetable oil
450 grams of meat (beef, lamb or chicken) or seafood cut into strips
100 grams bell pepper, cut into small pieces
Spring onions, cut into 1-inch pieces
Preparation
Heat the oil in a pan or wok at a moderate temperature
Add the meat and/or seafood and the bell pepper pieces and stir fry for 2 minutes
Then add the spice paste and stir-fry for another 2 minutes, until everything is cooked through.
Garnish and serve hot
Ingredients:
Soy sauce (water, soybeans, salt, sugar, wheat flour), garlic, soybean oil, onion, black pepper 11%, fresh red chili, sugar, salt, dark soy sauce (sugar, water, salt, soybeans, wheat flour), modified tapioca starch, natural vinegar, hydrolyzed vegetable protein (soy, corn, wheat), tomato paste, color: E150c, maltodextrin.
Also known as: Kruidenpasta voor zwarte peper roerbakgerecht
Country of origin: Thailand
Brand: Asian Home Gourmet
Code: 8886390204059
Content: 50 gr (1.75 Oz)