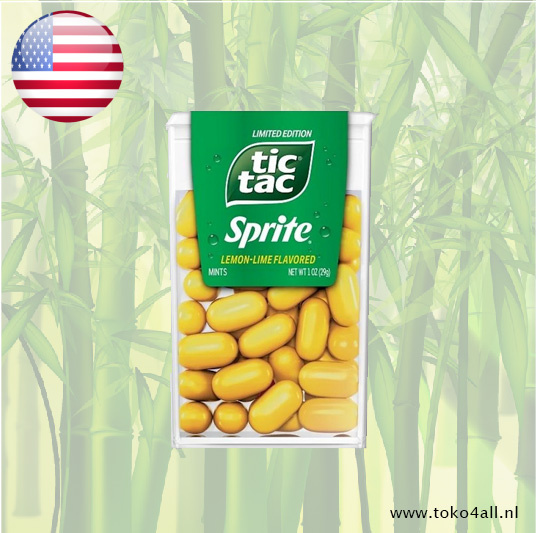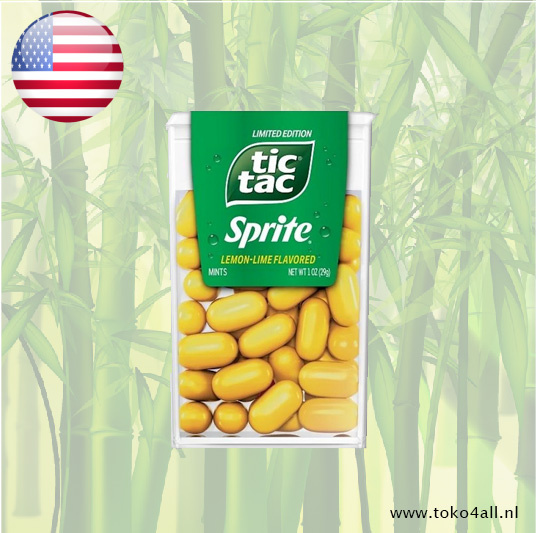 Sprite lemon-lime flavored candies 29 gr
€1,95
Sprite lemon-lime flavored candies are a limited edition version of the famous Tic Tac candies that we all know.
In stock (12)
(Delivery timeframe:1-3 days)
Sprite lemon-lime flavored candies
Everyone is familiar with Tic Tac candies – the small plastic boxes containing tiny candies originally with a refreshing mint flavor. Over time, more variations of these candies in different flavors have emerged in the market. This Sprite flavor is one of the limited editions. The quantities produced are limited, so if you want to get them, act quickly.
Ingredients
Sugar (Adds a Trivial Amount of Calories, Total Sugars and Added Sugars), Dextrose, Tartaric Acid, Sodium Bicarbonate, Maltodextrin, Gum Arabic, Citric Acid, Rice Starch, Magnesium, Stearate, Natural Flavors, Mono- and Diglycerides, Lime Juice Powder, Turmeric, Carnauba Wax, Beta-Carotene.
Also known as: Sprite lemon-lime flavored candies
Country of origin: America (USA)
Brand: Tic Tac
Code: 009800004898
Content: 29 gr (net wt 1 OZ)