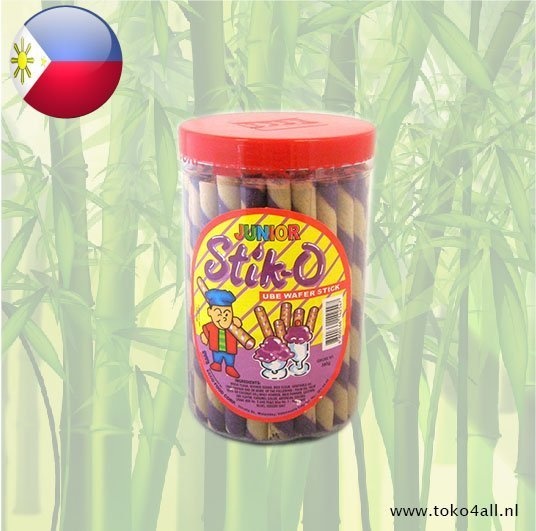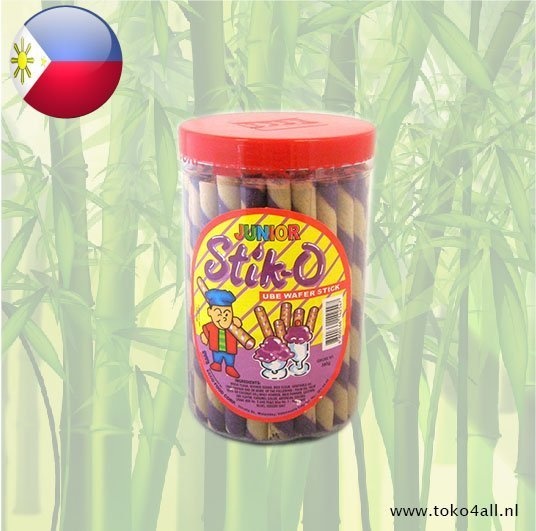 Stik-O Ube Wafer Stick 380 gr
€4,75
Stik-O Ube wafer rolls are deliciously crispy rolls with a light filling. Delicious to eat as it is, but also nice with a dessert.
In stock (13)
(Delivery timeframe:1-3 days)
Stik-O Ube Wafer Stick
These waffle rolls are immensely popular and delicious as a snack. The rolls have a cream on the inside with the taste of Ube. You can compare these roles with old roles. Nice to present with a cake or with your ice cream dessert. Success is guaranteed because of its striking colors. Available in various flavors such as Ube, buco-pandan, mocha, chocolate and strawberries. The wafer rolls are packed in a handy container with a screw cap and can be closed properly.
Ube root
The root is a tuber-like crop also known as yam. The Ube root comes from Africa and Asia. The tubers vary in size. The Purple jam is used in various desserts, there are also different types of ice cream with purple jam and in combination with coconut. In the Philippines it is also available as halayá. This is some kind of jam. One of the dishes in which ube is used is the very popular halo-halo dessert from the Philippines. This is a shaved ice dessert with fresh fruit, purple jam, cream, condensed milk and coconut.
Ingredients:
Wheat flour, refined sugar, rice flour, vegetable oil (may contain palm oil, palm olein, or coconut oil), whey powder, milk powder, lecithin, ube flavor, caramel color, artificial colors E127, E133, iodized salt.
Also known as: Stik O Ube Wafel rollen
Country of origin: Philippines
Brand: Ecco Food Corp.
Code: 4800166142547
Content: 380 gr.