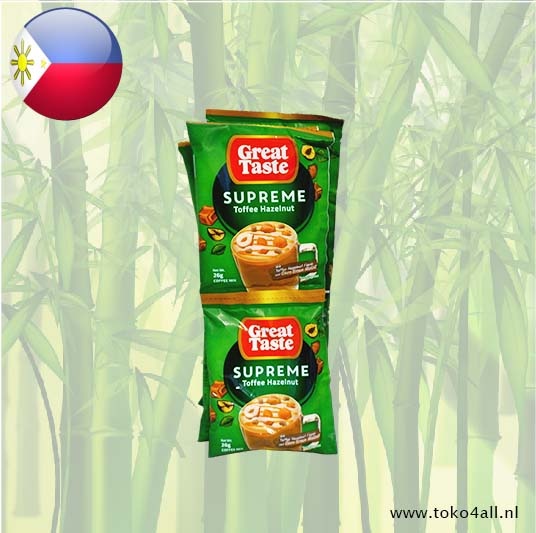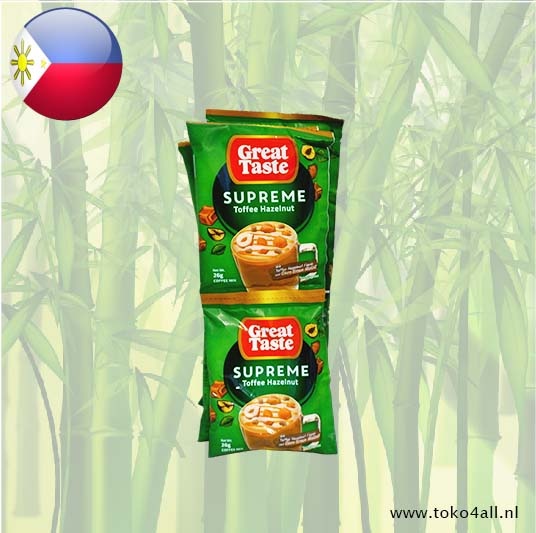 Supreme Toffee Hazelnut 10 x 26 gr
€5,95
Indulge in the nutty coffee linamnam of delicious hazelnut flavored coffee mix with a hint of toffee and exciting choco brown mallow toppings!
In stock (11)
(Delivery timeframe:1-3 days)
Supreme Toffee Hazelnut
Indulge in an irresistible treat for your senses with Great Taste Supreme Toffee Hazelnut. Let yourself be enticed by the nutty coffee linamnam of this delightful coffee blend, enriched with a subtle touch of hazelnut, and finished with exciting choco brown marshmallow toppings. This isn't just a cup of coffee; it's your daily reward, a source of pure joy and comfort.
How to use:
Put the contents of 1 part of the bag in a mug
Add 200 ml of hot water
Stir well and enjoy
Ingredients:
Creamer (glucose syrup, hardened vegetable fat (palm), acidity regulators (dipotassium phosphate, sodium citrate), caseinate, emulsifiers mono- and diglycerides of fatty acids, diacetyl tartaric acid ester of mono- and diglycerides and sodium stearoyl lactylate), stabilizer (modified starch), anti-caking agent (silicon dioxide), sweetener (sucralose), color (riboflavin)], sugar, coffee, marshmallows [glucose, sugar, beef gelatine, thickener (modified starch), cocoa, dextrose, stabilizer (tetrasodium pyrophosphate), artificial flavor, artificial colors (E110, E129, E133)], artificial flavors, cocoa, iodized salt, sweetener (acesulfame potassium). Allergen information: contains milk and milk products.
Also know as: Supreme Black Forest Latte
Country of origin: Philippines
Brand: Great Taste
Code: 4800016022920
Content: 10 x 26 gr