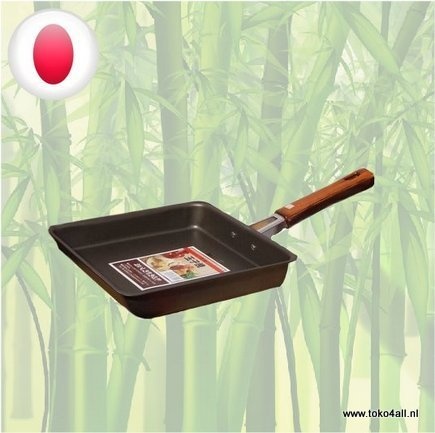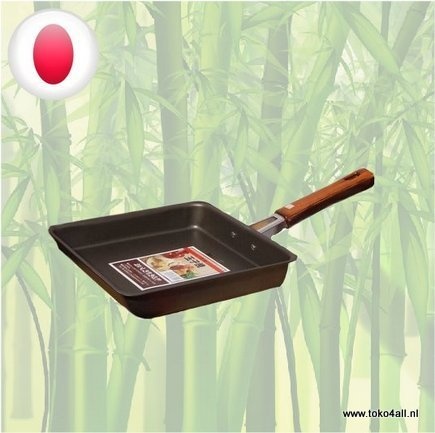 Tamago Eggpan iron 19 x 13 cm
€17,95
Tamago Egg pan iron from Tokyo Design Kitchen is an egg pan with a fine non-stick coating that makes baking the Japanese omelette even easier
In stock (4)
(Delivery timeframe:1-3 days)
Tamago Eggpan iron
This pan has a rectangular shape and is specially intended for baking the Japanese omelettes (Tamago) that you often see in Japanese cuisine, such as a variation on sushi. The art of Tamago baking is to fry the omelet very lightly and then further and further on the rolls. The real difference of a good tamago baker is that while rolling, he always adds a little bit of omelette batter to the pan so that the roll can become thick and firm in structure. The pan has a non-stick coating which makes it a little easier to roll over one side of the pan. Before use, grease the pan with some oil.
Tamago Pan (Makiyakinabe)
This pan is specially intended for making the traditional tamagoyaki. The makiyakinabe is a square or rectangular pan with which one can bake and roll the omelette. The traditional pans are usually made of copper or tin, but nowadays they are also made of iron with a non-stick coating. Rolled omelettes made with makiyakinabe are often used as a side dish in sushi and bent.
There are three types of makiyakinabe:
Sideō-type pans are square
Kansai type pans are long and thin rectangles
Nagoya type pans are short and wide rectangles
A tamago omelette starts out just as a single layer of omelette in the shape of the rectangle of the pan. When the omelette starts to cook, 1/3 is folded over and the omelette slides slightly upwards. Add a little omelette batter to the empty part at the bottom of the pan. This process continues until a nice rectangular block of omelet is created. Try to keep the egg as yellow as possible without letting it color too much. The rolled omelette made in makiyakinabe can be used as a topping for nigirizushi.
Tamago pan formats
Width:13 cm
Height: 3 cm
Length: 19 cm
Weight: 400 grams
Content: 0.4 liter
Non-stick coating
Handle / handles material: Plastic
Also know as: makiyakinabe tamagoyaki-ki tamagoyakinabe Japanse omeletpan
Country of origin: Japan
Brand: Tokyo Design Kitchen
Code: 4989976678160
Content: 1 pan