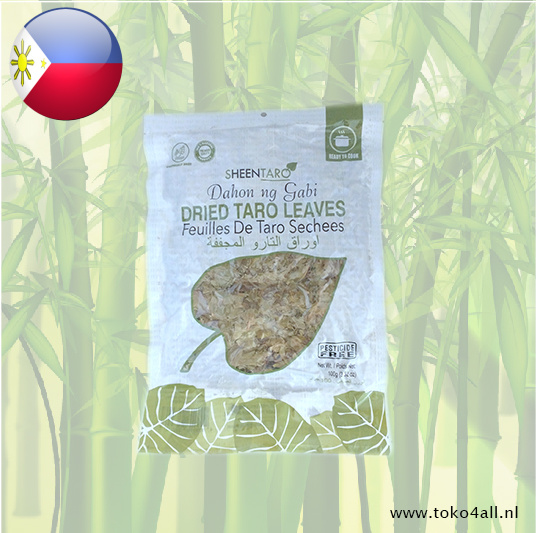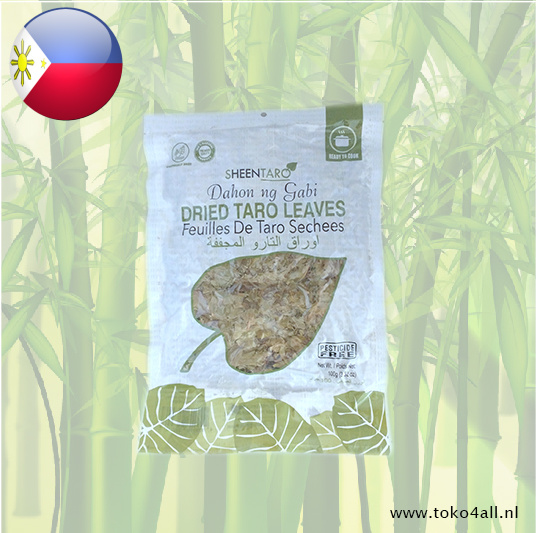 Taro leaves Dried 100 gr
€3,95
Taro leaves are dried widely used in various Eastern dishes. This dried variant is easy to use and has a long shelf life.
In stock (14)
(Delivery timeframe:1-3 days)
Taro leaves dried
These leaves are heart-shaped leaves that mainly occur in the South Pacific. The plant is most grown for the root. The leaves are also extremely suitable because of its rich amount of nutrients. Fresh leaves are poisonous if they are eaten raw. There are various dishes from Hawaii and the Philippines where these leaves are an important ingredient. These leaves have a pleasant nut taste that is similar to spinach. This dried version is ready for use and a delicious addition to the Eastern kitchen. These leaves are also available ready-made in the form of the Laond van Moondish. This is available in vegetarian form or with shrimp. Try this special dish from Filipino cuisine and enjoy all the good things the Philippines has to offer.
Gabi
These leaves are called Gabi in the Philippines. Since the Taro can grow under various weather conditions, it is one of the most important sources of vegetables and starch in the Philippines. The leaves are low in sodium and cholesterol. The leaves are rich in dietary fiber, vitamin E, vitamin B6, potassium, manganese. The leaves and stems and tubers are part of the Filipino cuisine. A popular recipe is the Laing, which is strongly inspired by the pinangat, a dish from the Bicol region. These leaves are often reduced with coconut milk and bagoong shrimp pasta. The heavily spiced variant with hot peppers is called Siling Labuyo. Another popular Filipino dish this vegetable is the Sinigang. The Gabi is a perfect substitute for rice because of its nutritional value.
Ingredients:
Dried (Taro) Leaves
Also known as: Taro Leaves, Gabi, Laing, Feuilles De Taro
Country of origin: Philippines
Brand: Sheentaro
Code: 4809016227007
Content: 100 gr (3.527 Oz)