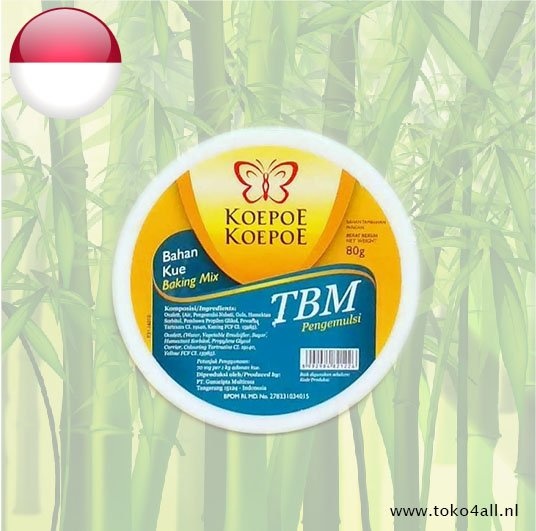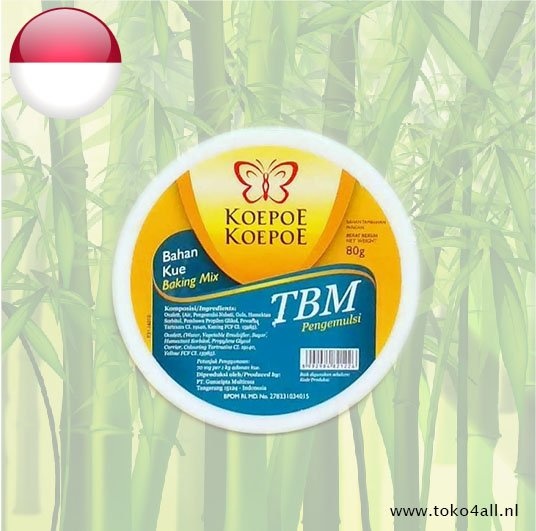 TBM 80 gr
€2,50
TBM is an emulsifier and stabilizer. You do it through the batter of a cake or dough to make it more durable and to keep its structure.
In stock (28)
(Delivery timeframe:1-3 days)
TBM
Ook bekend als pengemulsi, dit een is benaming die eigenlijk het zelfde betekend als emulgator. Het is speciaal ontwikkeld is om de zelf gebakken cake of deeg een nog zachter en luchtiger structuur te geven en te langer te laten behouden. Samen met dit product produceert u een perfecte spongecake, die langer zijn uitstekende smaak en structuur zal behouden. Koepoe Koepoe heeft een breed assortiment aan producten, kijk snel verder op onze website en ontdek de artikelen van Koepoe Koepoe.
TBM, Ovalett, SP
Van deze 3 is Ovalett de basis versie. Het verschil met de TBM en SP is dat er aan TBM extra gele kleurstof is toegevoegd en dat aan de SP een vanille aroma is toegevoegd. De werking is verder het zelfde.


Ingredients:
Ovalett (water, vegetable emulsifier, sugar, sorbitol, glazing agent (E1520), colorings (E102, E110))
Also known as: Bahan Kue Baking Mix, Pengemulsi, emulsifier, Surface Perfectant
Country of origin: Indonesia
Brand: Koepoe Koepoe
Code: 8992984821226
Content: 80 gr.