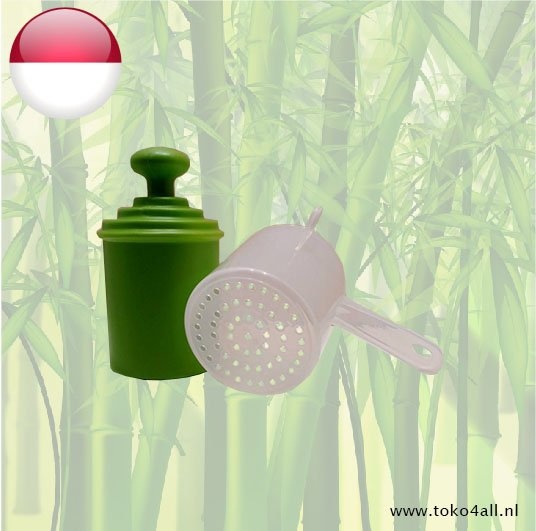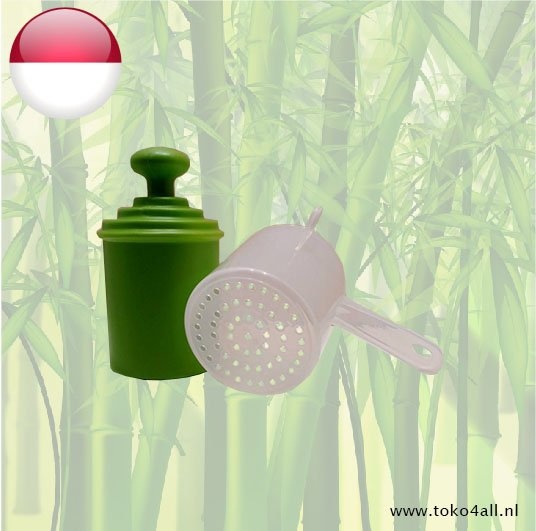 Tepung Dawet Cendol mold 1 set
€9,95
Tepung Dawet Cendol mold from Sruut is a plastic mold with a press to make cendol the easy way.
In stock (5)
(Delivery timeframe:1-3 days)
Tepung Dawet Cendol mold
This mold is an ideal combination with the packages of cendol flour from sruut. Simply make the batter, put it in the mold and press in cold water. Nice for the summer days. This shape is completely plastic.
Format:
Press: Ø 10 cm and 20 cm high
Sieve: Ø 11 cm and 12 cm high
Cendol
Cendol also known as tjendol are green or red, white slippery tapioca strings that are used in a delicious dessert in combination with coconut milk and gula djawa sugar. The mix is easy to make and thus forms the basis for this tropical drink.
How to use:
Mix 1 bag of 100 gr dawet flour with 600 cc of water in a pan and mix well
Heat the mix and gently stir until it thickens and boils
Prepare the mold and ice cold water
Pour the mass into the mold and press it directly into cold water through the press
Serve with coconut milk, palm sugar, pieces of jackfruit and ice shavings or cubes.
Also know as: Tepung Dawet Cendol pers
Country of origin: Indonesia
Brand: Sruut
Code: 011747236720
Content:1 set