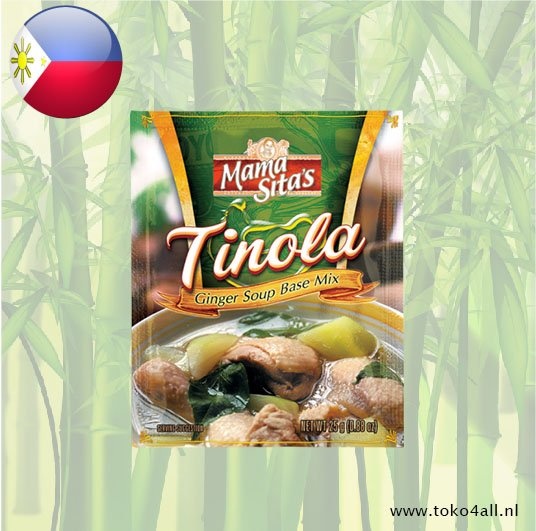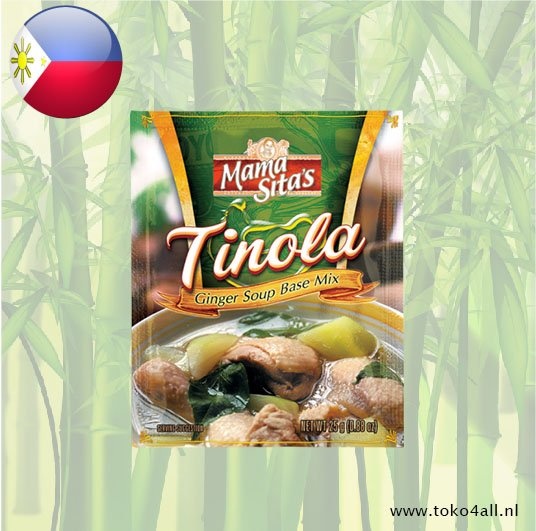 Tinola Ginger Soup Mix 25 gr
€1,00
Tinola is a steaming hot ginger soup to warm cold nights. Just simmer this mix with chicken, green papaya, and chili leaves.
In stock (71)
(Delivery timeframe:1-3 days)
Tinola Ginger Soup Mix
Tinola, also known in Ilocano as La Uya is a soup-based dish served as an appetizer or main entree in the Philippines. This dish is traditionally cooked with chicken and green papaya in combination with Pepper leaves or Horseradish leaves
Preparation:
Put in a pan 1 sachet Tinola mix with 1.5 liters of water
Add 1 green chopped papaya to (remove seeds)
Add approximately 500g chicken breast or chicken thighs when
Bring to the boil and let it simmer
Add just before serving a half pack or one whole pack of pepper leaves
Tip:
Green papaya can also be replaced by chayote
Pepper leaves can be replaced by Horseradish leaves (Malunggay)
Ingredients:
Salt, ginger powder, onion powder, cane sugar, garlic powder, and flavor enhancers E631, E627.
Also known as: Tinola Gember Soep Mix, ingwer-suppe mix, mélange a soupe de gingembre
Land van herkomst: Philippines
Merk: Mama Sita's
Code: 4806512022785
Inhoud: 25 gr.