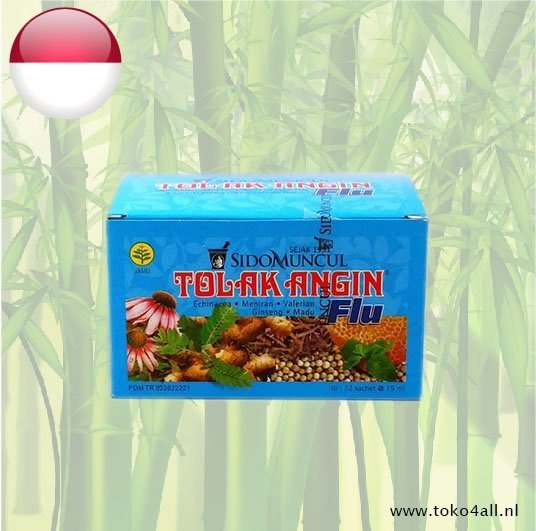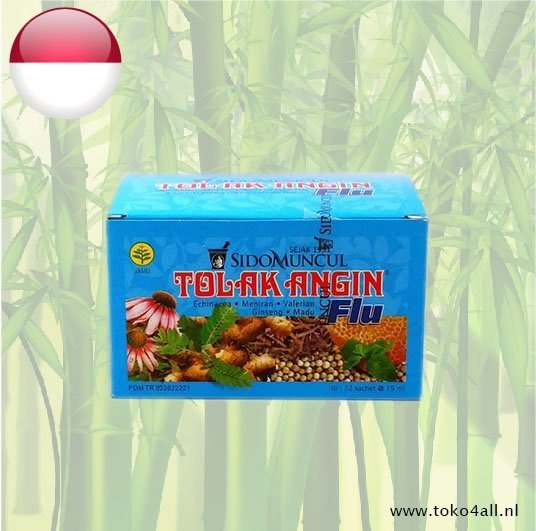 Tolak Angin Flu 12 x 15 ml
€5,75
Tolak Angin flu is a blend of therapeutic plant ingredients that help stimulate the immune system and overcome flu symptoms.
In stock (63)
(Delivery timeframe:1-3 days)
Tolak Angin Flu
This Tolak Angin Flu is a variant that gives a better protection against cold and increases endurance. This special blend is formulated with a standardized herbal blend that helps to overcome the flu symptoms. One box contains 12 bags with a 15 ml herbal blend.
How to use:
Take a sachet of Tolak Angin-flu directly from a sachet or with half a glass of warm water.
Use 1 sachet 3 times a day after a meal
Warning
Do not drink in combination with alcohol, caffeine and medicines that can cause blood clots
Not for pregnant women and children
Ingredients:
Fennel fruit, Licorice fruit, Clove leaf, Ginger rhizome, Mint herb, Phyllanthus herb extract, Valerian root extract, Echinacea extract, Ginseng extract, Fructose, Sucrose, Honey.
Also known as: Tolak Angin sirup herbal untuk flu
Country of origin: Indonesia
Brand: Sidomuncul
Code: 8998898280449
Content: 12 x 15 ml.