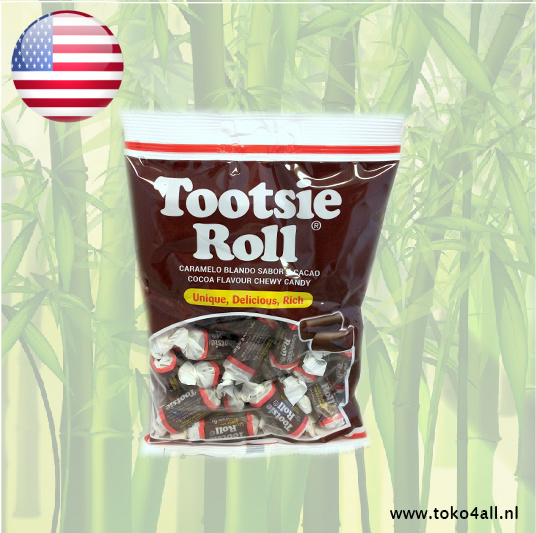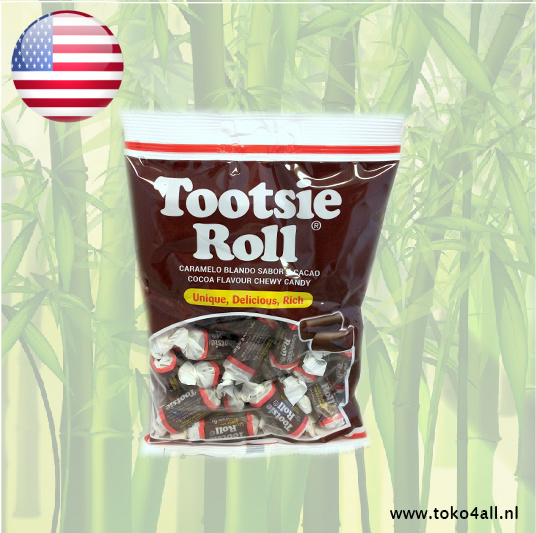 Tootsie Rolls 120 gr
€2,50
Tootsie roll is a type of chocolate flavored toffee candy, popular in America since 1896.
In stock (7)
(Delivery timeframe:1-3 days)
Tootsie Roll
This candy has a very rich history. It is said to have originated in 1896 and was introduced by an Austrian immigrant in the United States. When the producer of this company ran into financial difficulties in 1935, it was taken over by the Rubin family. By 1948 the sales volume had increased twelve-fold. This industries company has now become one of the largest manufacturers of sweets around the world. About 64 million tootsie rolls are produced per day. The current American ingredients of a chocolate Tootsie Rolls are sugar, corn syrup, partially hydrogenated soybean oil, condensed skimmed milk, cocoa, whey powder, soy lecithin, natural and artificial flavors In addition to the classic cocoa flavor, Tootsie Rolls has introduced several other flavors. Known as Tootsie Fruit Rolls, Cherry, Orange, Vanilla, Lemon and Lime
Ingredients:
Sugar, glucose syrup, partially hydrogenated soybean oil, condensed skim milk, cocoa, whey, soy lecithin, artificial and natural flavors.
Also known as: Tootsie Rolls
Country of origin: America (USA)
Brand: Tootsie Food Inc.
Code: 8420886207126
Content: 120 gr