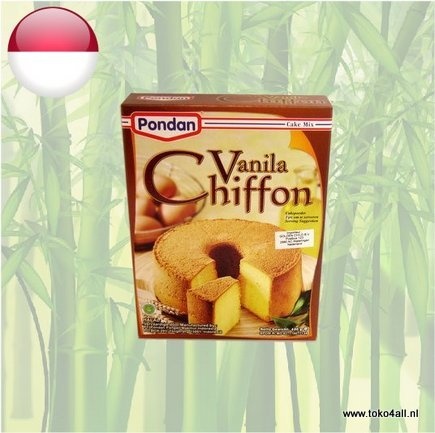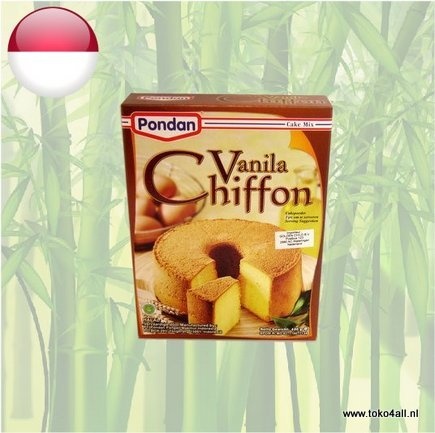 Vanilla Chiffon Cake 400 gr
€3,25
Vanilla Chiffon cake mix from Pondan, easy to prepare cake mix for a deliciously soft Indonesian cake.
In stock (23)
(Delivery timeframe:1-3 days)
Vanilla Chiffon Cake
Vanilla Chiffon cake mix is one of the many mixes from Pondan. Easy to use and the result is a wonderfully soft Chiffon cake. Pondan Chiffon mixes are also available in chocolate and pandan flavors.
Necessities
1 Pack chiffon cake mi
7 Medium eggs (400 gr
3 tablespoons of water (30 ml)
150 ml coconut milk
How to prepare
Heat the oven to 170º C (convection oven 160º C.). Beat the eggs for 3 minutes until creamy.
Add the Vanilla Chiffon Cake mix, then keep beating for ± 8 minutes until the cake batter is smooth and thick.
Add the coconut milk and stir well.
Spread a chiffon cake tin (26 cm in diameter) with margarine.
Bake the cake for 60 minutes. Let it stand for ± 10 minutes.
Remove the cake from the tin, ready to serve.
Ingredients:
Wheat flour, Cornmeal, Sugar, Milk powder, Emulsifiers (E471, E472b, E477), Baking powder, Vanilla flavor.
Also known as: Vanilla Chiffon Cake
Country of origin: Indonesia
Brand: Pondan
Code: 8992786100437
Content: 400 gr.