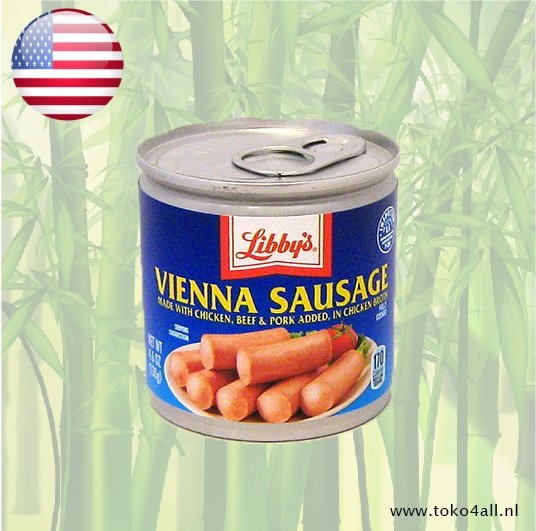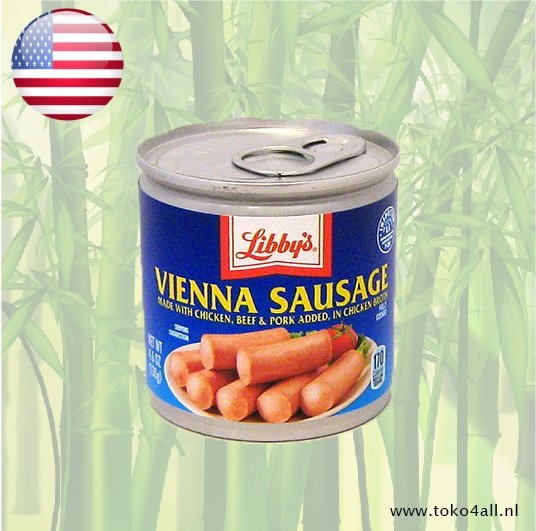 Vienna Sausage chicken pork Beef 130 gr
€2,10
Vienna Sausage from Libby is small in smoked sausages in a soft chicken broth. Nice to bake but also for the spaghetti, dishes, and soups.
In stock (72)
(Delivery timeframe:1-3 days)
Vienna Sausage chicken pork Beef
Vienna Sausage is ready-made finely seasoned sausages. Enjoy it heated, chilled, or directly from the can or as a snack, the main course or sliced and added to casseroles and soups. The Vienna Sausage is in this form is the North American version of the Frankfurter sausages that we know in this region. Smaller and much shorter canned sausages are sold with different types of sauces. The Vienna sausages are made by mixing finely ground pork or chicken with salt and spices, but in particular with mustard. The sausages are then smoked and cooked in a long coat after which the intestine is removed. The sausages are then cut small in preserved canned.
How to heat?
Microwave - heat the sausages in their own stock for 45 seconds.
Cooker / hob - Heat the sausages in the stock until warm.
Ingredients:
Chicken, chicken broth, water, beef, pork, contains less than 2% of salt, sugar, spices, sodium phosphate, sodium ascorbate, preservative E250, flavorings, paprika.
Also know as: Vienna Sausage
Country of origin: Amerika (USA)
Brand: Libby's
Code: 039000086639
Content: 130 gr (4.6 Oz)