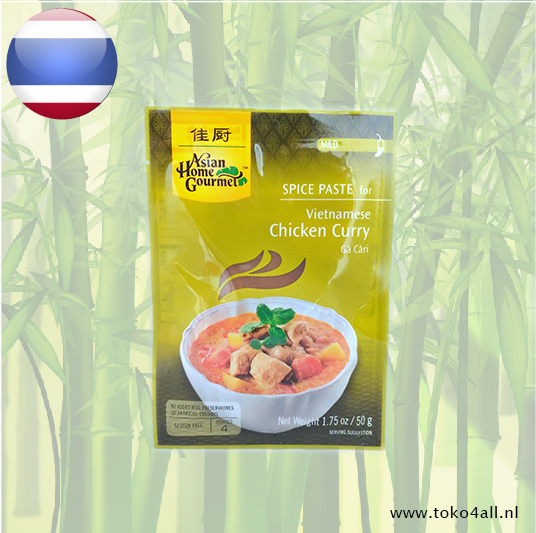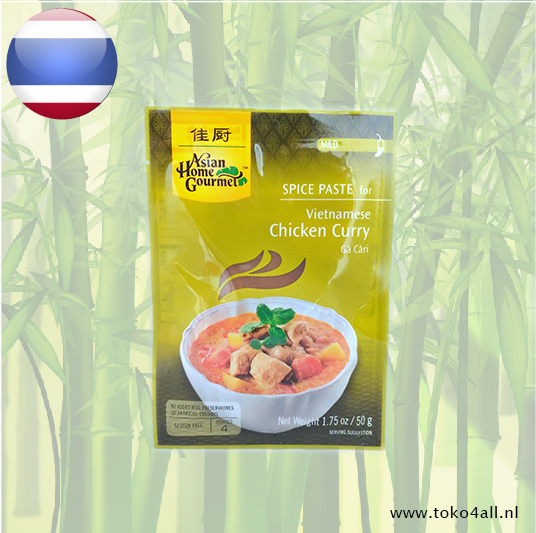 Vietnamese chicken curry 50 gr BB 12-11-2023
€0,75 €1,50
Vietnamese Chicken Curry from Asian Home Gourmet is a basic pasta to put a delicious curry on the table yourself.
In stock (19)
(Delivery timeframe:1-3 days)
Vietnamese Chicken Curry
This Asian stew is a dish that originated in the Indian subcontinent. The taste of the curries is often considered spicy, but this ready-made paste is a mild variant. The curries consist of various spices including onion, chilli, garlic, soy, coriander. The curry can be prepared with different types of meat. For example, you can use chicken, beef or lamb. This ready-made pasta is a creamy mild pasta that is prepared with sweet potatoes, carrots and meat.
Spice paste for Vietnamese chicken curry
Ingredients for 4 people:
1 package of spice paste for Vietnamese chicken curry
2-3 tbsp vegetable oil
250g chicken meat, cut into cubes
1 small sweet potato or pumpkin, diced
1 potato carrot, diced
385 ml coconut milk from milk
Mint leaves as garnish
Prepare:
Heat the oil in a pan. Add the spice paste and stir-fry for 1/2 minute
Add the chicken meat and stir-fry for 2 minutes
Stir in the coconut milk and vegetables. Bring the whole to a boil and then suddenly leave it uncovered for 20 minutes. Garnish and serve hot
variation:
The chicken meat can also be replaced by beef or lamb
Ingredients:
Onion, lemongrass, red chili, garlic, ginger, soybean oil, miso paste (soybeans, rice, salt), salt, sugar, coriander, herbs and spices, acidity regulator E330, color E160c.
Also known as: Vietnamese Kip Curry
Country of origin: Thailand
Brand: Asian Home Gourmet
Code: 8886390200082
Content: 50 gr (1.75 Oz)