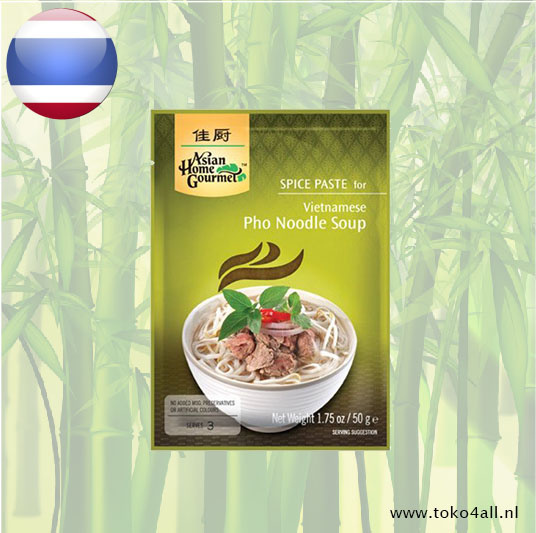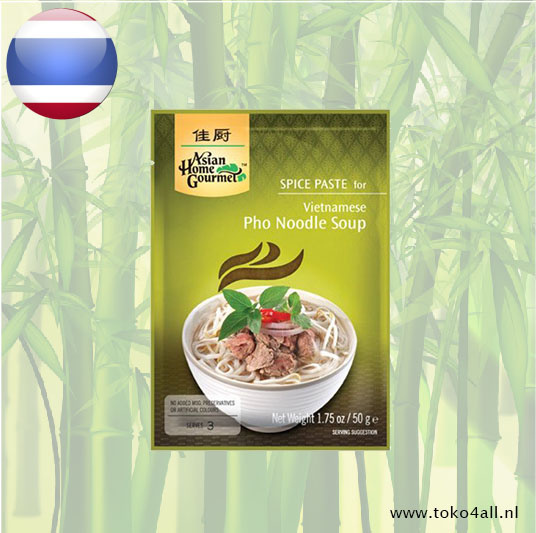 Vietnamese Pho Noodle Soup 50 gr
€1,50
Vietnamese Pho Noodle Soup is a ready-made Vietnamese soup made from clear broth, vermicelli, and thinly sliced beef.
In stock (8)
(Delivery timeframe:1-3 days)
Vietnamese Pho Noodle Soup
Pho is a popular meal-in-a-bowl noodle soup in Vietnam made from clear broth, vermicelli, and thinly sliced beef. This spice paste contains a delicate mix of ginger, coriander, star anise, and cinnamon for an aromatic Vietnamese taste experience. With the help of Asian Home Gourmet Vietnamese Pho Beef Vermicelli Soup Paste, you can prepare a delicious broth for this Vietnamese specialty. Beef or chicken, bean sprouts, sweet basil leaves, lime, and peppers are usually served with this dish.
Necessities:
1 pack of spice paste for Vietnamese Pho Noodle Soup
750 ml water or unsalted beef or chicken stock
1 coarsely chopped onion
250 grams of beef
150 grams of dry rice vermicelli
50 grams bean sprouts
Fresh basil leaves
Green lime
Coriander leaves
Sliced chili peppers for garnish (optional)
Preparation method:
Pour water or stock into a saucepan and add the spice paste and onion. Bring to a boil and let it simmer for 5 minutes
Add the meat and bring the soup back to a boil. Scoop out the cooked beef and set it aside
Divide the meat over the vermicelli and pour the soup over it
Garnish with bean sprouts, basil, lime, and chili peppers
Serve hot
Ingredients:
Water, salt, soy sauce (water, soybeans, salt, sugar, wheat flour), sugar, onions, ginger, garlic, hydrolyzed soy protein, coriander, yeast extract, star anise, pepper, cinnamon, food acid: E330, E296.
Also known as: Vietnamese Pho Noodle Soup
Country of origin: Thailand
Brand: Asian Home Gourmet
Code: 8886390204769
Content: 50 gr (1.75 Oz)