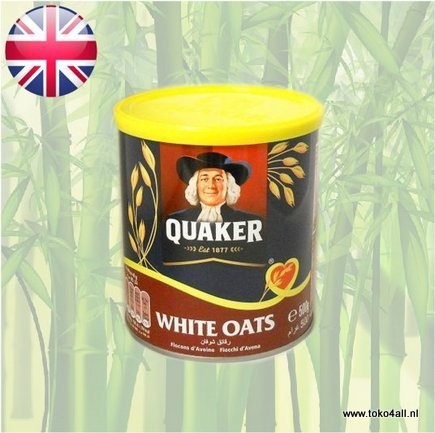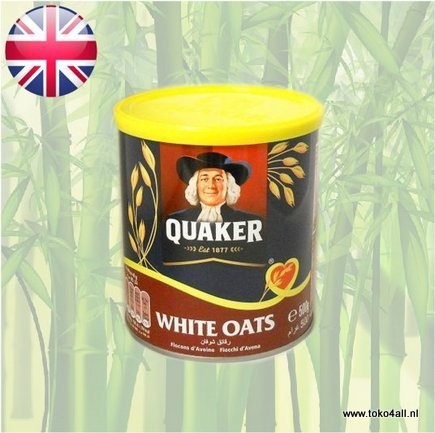 White Oats 500 gr
€3,50
White oats from Quaker is top quality and pure natural product. For a healthy breakfast, this should not be missed in the kitchen.
In stock (1)
(Delivery timeframe:1-3 days)
White Oats
Quaker is a renowned brand and is known to everyone who is only satisfied with the very best. This oatmeal is grown on its own oat fields in Scotland. This malt is checked and is only processed into a tasty nutritious breakfast if it meets the strict requirements. You also test this on the quality of Quaker. The oatmeal of Quaker has been processed after more than 130 years on various methods to be able to deliver even more quality. The processing procedure affects the cooking time, texture and taste. This oatmeal contains traditional oatmeal. This has been carefully cut, crushed and 100% natural.
Porridge:
For a delicious Quaker Oats breakfast, pour 320 ml milk or water in a pan containing 40 gr of oats, then stir.
Bring the mixture to the boil and cook 2 minutes.
Serve.
Try serving with honey, almonds and fresh fruits.
If you're in a hurry, pour the milk or water in a bowl containing 40 gr of oast. Stir, then put the bowl in the microwave. Microwave on high for 2 minutes, then remove and leave to stand for 1 minute prior to serving.
Ingredients:
100% White oats.
Also known as: Quaker White Oats
Country of origin: Europe
Brand: Quaker
Code: 5000108478119
Content: 500 gr.