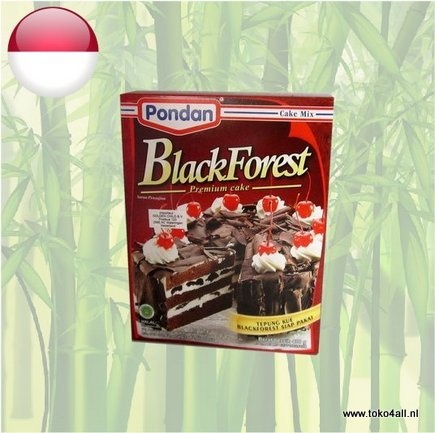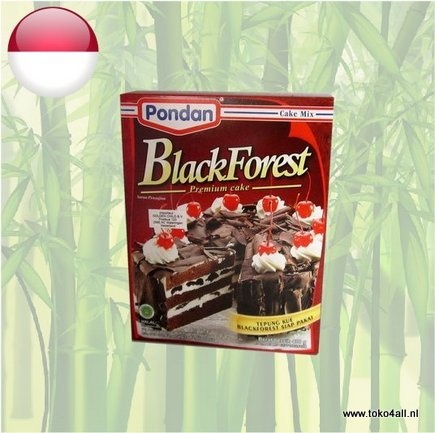 Blackforest Premium Cake 400 gr
€3,65
Blackforest Premium Cake from Pondan is a delicious chocolate cake that can be decorated with cherries.
Out of stock
(Delivery timeframe:Please contact us)
Blackforest Premium Cake
This recipe from pondan is the basis for a delicious chocolate cake that you can finish according to your own ideas and insights. The foundation has been laid, now your ideas. Decorate it with whipped cream, cake cream or another mousse. The finish would of course not be complete if you do not add cherries to it.
Necessities
1 Pack of Blackforest Premium Cake Pondan
10 eggs (6 whole eggs & 4 egg yolks)
Melt 150 g of margarine
Melt 100 g of butter
Preparation method
 Heat the oven to 200 ° C.
Beat the eggs for 4 minutes with a mixer at the highest speed
Add the Pondan Black Forest Cake Powder and beat constantly. 6-7 minutes until the mixture is thick and white
Add the chocolate paste and beaten margarine-butter mixture and mix well until even
Divide the batter in three
Put each part in a baking pan covered with baking paper of 22x22cm
Put all three baking tins in the oven and bake for 20 minutes on a higher heat until they are done
Allow to cool a bit and then remove the top layer so that the butter cream can stick well to it
Brush them with butter cream or jam and lay the cake in layers that we call Black Forest
Ready to serve
Ingredients:
Wheat flour, Powdered sugar, Skimmed milk powder, Cornmeal, Baking powder, Cocoa powder, Emulsifiers (E471, E472b, E477), Chocolate essence, Colorants (E133, E110, E122).
Also known as: Blackforest Premium Cake
Country of origin: Indonesia
Brand: Pondan
Code: 8992786100192
Content: 400 gr.