Posted on
By Renee Zuidwijk
Posted in History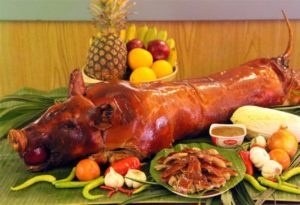 As mentioned in my previous article, the Philippines is divided into different regions, each with its own identity. The inhabitants of the regions are all proud of their own identity and want to pass it on from generation to generation. Filipino cuisine is very much influenced by region by the raw materials available. For example, on the more than 7000 islands, each region has its own approach to a recipe.
Northwest coast of Luzon
The northwest coast of Luzon, also known as the Ilocos region, consists of a piece of land that lies between the mountains and the sea. The Ilocanos mainly live on the raw materials they get from the dry hard land. They prefer vegetables and rice and, to a lesser extent, meat. One of the most famous dishes from the Ilocos region is the Pinakbet. Pinakbet is a combination of tomatoes, eggplant, bitter melon, lima beans, okra, pumpkin and thickened with bagoong (fermented shrimp or fish). The meat dishes from the Ilocos region are delicious, but bad for your cholesterol. As is known as the Lomo, a soup made from pork liver and kidneys. Longanisa, a fatty sausage made from minced pork that is often eaten for breakfast. Bagnet, dried pork belly, fried with bagoong.

Central Luzon
The 2 best known and most loved cuisines from this region are Pampanga and Bulacan. In Pampanga, the kitchen is known for its elegance and appearance. Many exotic dishes in the Philippines are linked to Pampanga. For example, there is the fried catfish preserved in a fermented rice sauce (Buro), fermented crab, frogs or milkfish in a sour soup, baked crickets and of course Tocino spiced pork slices. In pampanga it is customary to sweeten the dishes, especially the desserts. The desserts are mainly influenced by Spanish cuisine.


Cream puffs
Egg yolk custard desserts
Marzipans and Merinques
Tibok-Tibok (water buffalo milk with corn)
Bringhe (rice dish with coconut milk)
Ensaymada (Sort of brioche bread with cheese and butter)
Leche flan (Philippine version of Creme caramel)
Glutinous rice cake

In Bulacan, the motto is to only eat things that make you happy. The kitchen in Bulacan is old-fashioned but patient and very varied. The kitchen uses many ingredients from the immediate area. For example, the fish from the local river is cooked in lemon and palm wine, and then grilled. Eel is stewed in coconut cream, saltwater fish in vinegar and ginger, mudfish fermented or wrapped banana leaf. The inhabitants of Bulacan are specialized in meat dishes, so there is a specific chicken dish where a whole chicken is roasted in a small pot with salt. In addition, the chefs from Bulacan claim that they make the best Relleno and Galalantina (stuffed chicken dishes). Typical dishes from the Bulacan region are the Estofado (pork leg), Asado (roasted in pots) and the Kare-kare dish. Kare-Kare is an oxtail stew in peanut sauce.

Manila
The cuisine in Manila is influenced by basically everything that is available. For example, the fresh fish enters via the port of Manila, meat is supplied from the south and rice is supplied from Central Luzon. There are many dishes from this region that are claimed as Filipino cuisine, although they are prepared in their own way throughout the Philippines.
Some examples are:


Adobo is a dish of chicken or meat stewed in a sauce of vinegar and soy sauce, garlic, peppercorns, bay leaf. Every region claims to make the best adobo. In Manila, for example, it is moistened with soy sauce and garlic. In cavite, ground pork liver is added. In batangas, the Annatto seeds are added for the orange color and in Laguna, tumeric is used again, while coconut milk is added again in zamboanga.
Sinigang is also a national dish of Filipino cuisine. This dish is a slightly sour soup. This dish is also prepared in different ways per region. So it can be from seafood or meat. For the sour taste, unripe guavas, tamarind leaves, tomatoes are often used.
Dinuguan is a dish that will be eaten by a limited number of tourists. The dish is made of pig's blood cooked with chillies and vinegar. This dish is a very popular dish in the Philippines and is eaten in combination with rice. Incidentally, it is a funny detail that it will work on many people's laughing muscles since you will have a special laugh after eating this. The black color of the pig's blood gives a nice look to your teeth!
Lechon, anyone who has been to the Philippines will certainly have seen or tasted this dish. Lechon is a suckling pig that is slowly cooked and crispy on a spit. The pork is marinated in a herbal blend consisting of lemongrass and sea salt, among other things. Before grilling, the outside is dehaired with hot water and rubbed with soy sauce.

Batangas
If we go more towards the south, we will arrive at Batangas via Laguna (where people prepare more fish dishes such as carp, tilapia). Batangas has a source of fish. For example, fresh tuna is brought in here and prepared in earthenware pots. Sardines are extracted from Lake Taal, and the fermented fish comes from Balayan town. Besides the fish, Batangas is also known for its meat industry, where Bulalo is one of the most famous dishes. In addition, there will also be a great coffee today, the much loved barako.

Quezon
In Quezon, the carabao (the Philippine bull) is also called the water buffalo stewed in spicy tomato sauce. One of the favorite dishes in this region is the Pancit Habhab. These noodles are scooped into a banana leaf cone and eaten on the spot.

Bicol
This region is best known for its Mayon Volcano, the smallest fish in the world, Chili peppers, coconut forests and the Pili nuts. Since a lot of coconut is extracted, it is therefore not surprising that many dishes are made with coconut. A well-known dish from the bicol region is Pinangat. Pinangat is a dish of taro leaves that are filled with chopped taro leaves, pieces of meat and then simmered in coconut milk with chili peppers.

Visayas
The Visayas is a large island group, where it is clear that Chinese culture has had a major influence on the cuisine.


Pancit Molo is a soup made from shrimp, chicken, pork dumplings.
Lumpiang Ubod, palm heart rolled into a soft pancake.
Binakol, a chicken soup based on coconut water.
Inasal Bacolod, marinated bbq chicken seasoned with annatto seeds and citrus fruit.
Kinilaw, marinated fresh fish with palm wine vinegar, lime juice, peppers, coconut cream

Mindanao
The last region in the far south of the Philippines. Mindanao cuisine is heavily influenced by exotic spices. Spices are used explicitly, such as turmeric, garlic, peppers, roasted coconut. Seafood is eaten raw, boiled or baked or processed in soups with lemongrass, ginger, green papaya. Chicken is often processed here in a curry or combined with taro leaves in a spicy soup. Cassava is an ingredient that is often grated and processed in cake types. Glutinous rice is again often used in combination with shrimps, spices, coconut milk. The most exotic fruits from this region are the durian, marang, mangosteen and the lanzones.

Zamboanga
Worth mentioning separately is Zamboanga. A city with a clear influence of Spanish culture. Cocido, a traditional Sunday buffet prepared with sausages, cured pork, spare ribs, sweet potato, corn and plantain. Zamboanga has several unique dishes:


Tatos, Big ugly crabs that taste like coconut because they eat it.
Curacha, the weirdest but sweetest crab.

For the Filipino inhabitants, food is an important part of their lives, they like to share it with friends but also with strangers. For the Filipino, food equals fraternization, which makes it even more beautiful that the Filipino kitchen manages to retain its own identity.