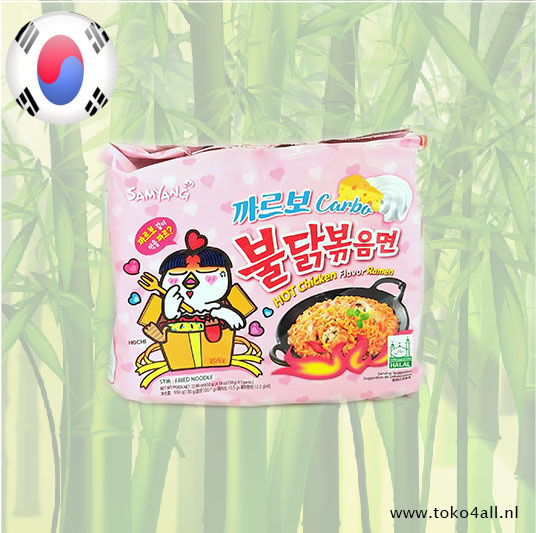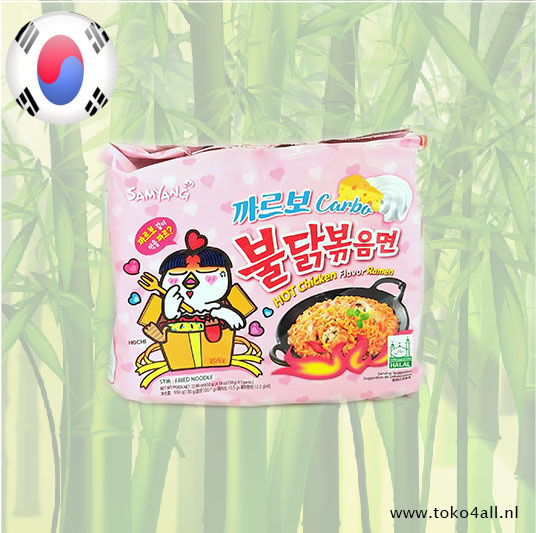 Carbo Hot Chicken Ramen 140 gr
€1,55
Carbo Hot Chicken Ramen from Samyang are spicy stir-fries noodles from Korea, tasty and easy and quick to prepare
Out of stock
(Delivery timeframe:Please contact us)
Carbo Hot Chicken Ramen
This pre-cooked ramen noodle is a thicker dried noodle and is specially intended for stir-frying. The included spice mix completes the dish. The Ramen noodles have a chicken flavor, so it is advisable to fry some chicken meat with it.
How to prepare
Put noodles in boiling water (550 ml) and let it simmer for 5 minutes
Discard the water but store about 8 spoons of water
Add liquid sauce and stir-fry 30 seconds longer
Add the flakes and stir and serve
Ingredients:
Noodle:
Wheat flour, modified tapioca starch, refined palm oil, modified potato starch, refined salt, glycerine, soybean oil, thickener [guar gum (E412)], purified water, emulsifier [lecithin (E322)], acidity regulators [potassium carbonate (E501), sodium carbonate (E500), disodium diphosphate (E339), citric acid (E330)], green tea oil flavor.
Soup:
Full cream milk powder, white sugar, milk powder, salt, mozzarella cheese powder, butter powder, modified potato starch, curled parsley, pepper powder, garlic powder, soybean oil.
Also known as: Carbo Hot Chicken Ramen
Country of origin: Korea
Brand: Samyang
Code: 8801073113893
Content: 140 gr.