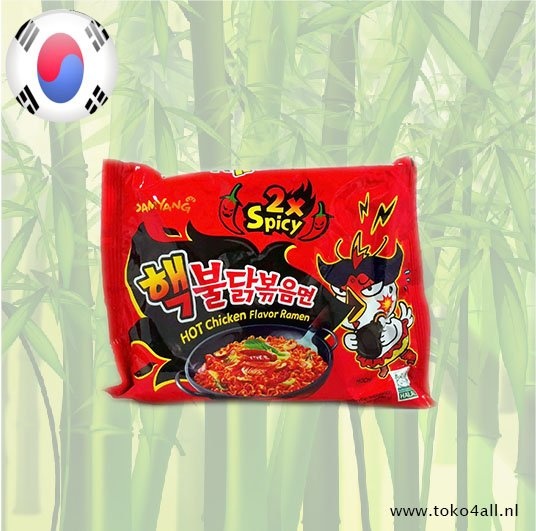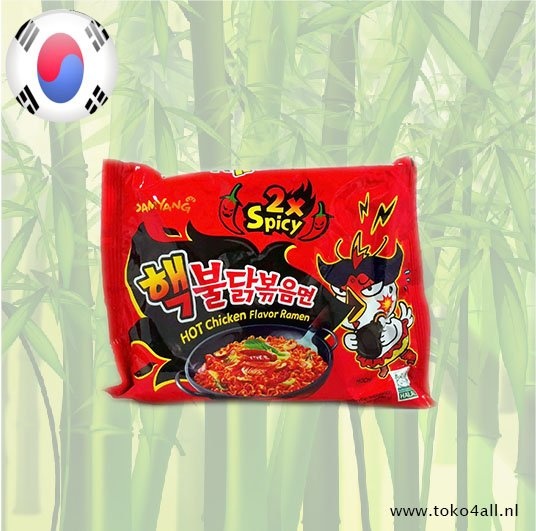 Double Spicy Hot Chicken Ramen 140 gr
€1,45
Double Spicy Hot Chicken Ramen from Samyang is spicy stir-fried noodles from Korea, tasty and easy and quick to prepare
Out of stock
(Delivery timeframe:Please contact us)
Double Spicy Hot Chicken Ramen
This pre-cooked ramen noodle is a thicker dried noodle and is specially intended for stir-frying. The included spice mix completes the dish. The Ramen noodles have a chicken flavor, so it is advisable to fry some chicken meat with it. Warning! This noodle is extremely spicy!
How to prepare
Put noodles in boiling water (600 ml) and let it simmer for 5 minutes
Discard the water but store about 8 spoons of water
Add liquid sauce and stir-fry 30 seconds longer
Add the flakes and stir and serve
Ingredients:
Noodles:
Wheat flour, tapioca starch, palm oil, wheat gluten, salt, soybean oil, water, acidity regulator (potassium carbonate (E501), sodium carbonate (E500), disodium phosphate (E339), sodium polyphosphate (E452), citric acid (E330)), thickener (guar gum (E421)), emulsifier (lecithin (E322)), color (riboflavin (E101)).
Soup:
Water, artificial chicken flavor powder, white sugar, soy sauce, red pepper powder, soybean oil, onion powder, chili extract, salt, garlic powder, tapioca starch, yeast extract powder, black pepper powder, curry powder.
Flakes:
Roasted sesame, roasted seaweed.
Also know as: 2 x spicy Instant Hot Chicken Flavor Ramen
Country of origin: Korea
Brand: Samyang
Code: 8801073113428
Content: 140 gr (4.93 Oz)