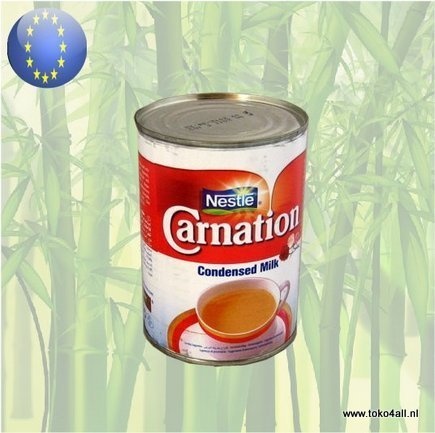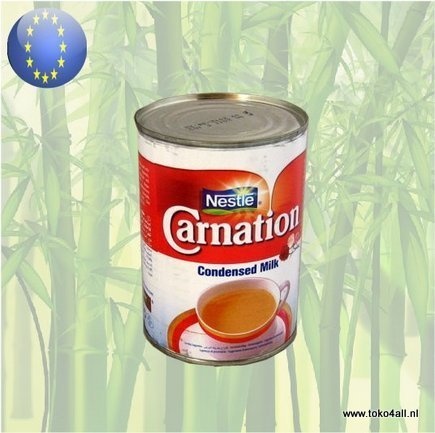 Carnation Condensed Milk 384 ml
€2,80
Carnation Condensed Milk is a non sweetened creamy milk. It will give a delicious flavor when us in coffee or cocoa.
In stock (35)
(Delivery timeframe:1-3 days)
Carnation Condensed Milk
Condensed milk is full cream pure cow's milk with part of the water removed by evaporation. It is homogenized. The content of this can mix with an equal amount of water will provide a rich wholesome milk. Carnation milk gives a creamy delicious flavor when used in coffee, tea, and cocoa. Not intended for infants of less than 12 months. Cool and dry place and use within 3 days after opening.
Condensed, Evaporated, Sweetened Condensed
There is a lot of confusion about sweetened-condensed, ordinary condensed and evaporated milk. The milk is boiled down so that the water percentage in the milk is reduced and the milk thickens. When they add sugar to the sweetened condensed milk, this is also indicated with sweetened-condensed milk on the label. So with sweetened condensed milk, we speak about the really thick sweet milk. The evaporated or ordinary condensed milk remains unsweetened. Cans with condensed milk are actually the same as unsweetened milk or coffee milk.
Ingredients:
Whole milk, stabilizer (sodium phosphates), vitamin D.
Also know as: Carnation Evaporated Milk
Country of origin:  Europe
Brand: Nestlé
Code: 7616100057474
Content: 410 gr / 384 ml