This is a frozen product and can only be picked up or shipped within the NETHERLANDS via DHL Express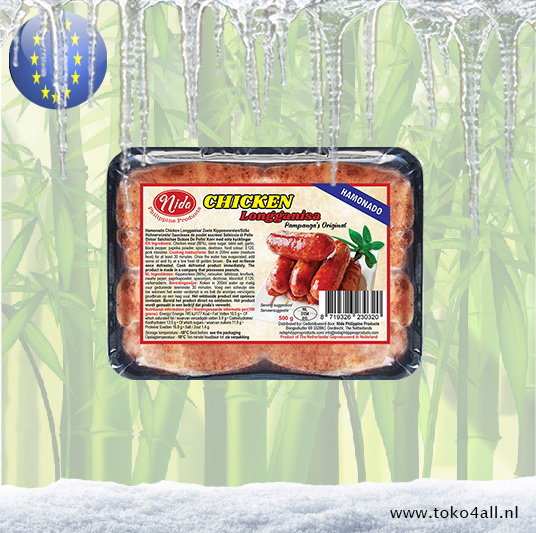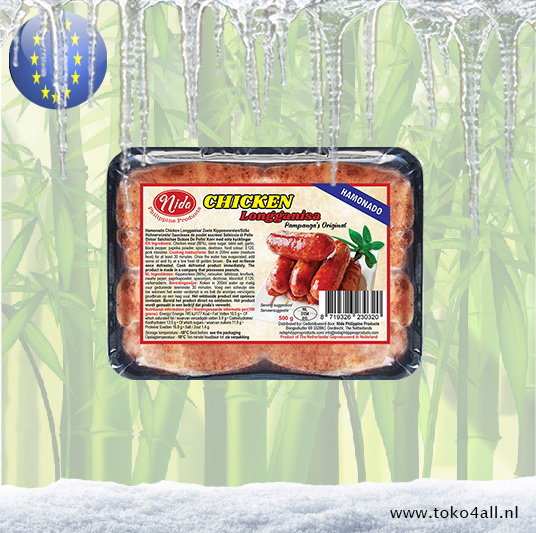 Chicken Longanisa Hamonado 500 gr
€8,20
Chicken longanisa from Nida is a delicious authentic longanisa prepared according to an authentic recipe from Pampanga.
CHOOSE DHL EXPRESS AS SHIPPING METHOD!
In stock (20)
(Delivery timeframe:1-3 days)
Chicken Longanisa Hamonado
The term longanisa comes from the Spanish name Longaniza. In contrast to the Spanish Longaniza, the Filipino variety is not dry and not ready for direct consumption, but has to be baked first. These sausages are somewhat reminiscent of our small bratwursts. In contrast to our bratwursts, the longanisa are often a bit sweet. The sweet taste and recipe is very much dependent on the region where they are prepared. The sausages are a delicacy and are eaten for breakfast as well as dinner. One of the dishes for which these sausages are used are long silog. A (fried) rice dish with fried egg and longanisa sausages.
Preparation method:
Let thaw before use
Blanch in a small amount of water for approx. 30 minutes
When the water has evaporated and oil comes out of the sausage, fry the sausage until golden brown until the sausages are cooked (approx. 75 ° C)
The sausage can also be grilled or baked in the oven after blanching.
Ingredients:
Chicken meat (86%), cane sugar, table salt, garlic, black pepper, paprika powder, spices, dextrose, colorant: E120, pork casing.
Also known as: Kip Longaniza
Country of origin: Europe / Philippines
Brand: Nida
Code: 8719326230320
Content: 500 gr.
This is a frozen product and can only be picked up or shipped within the NETHERLANDS via DHL Express