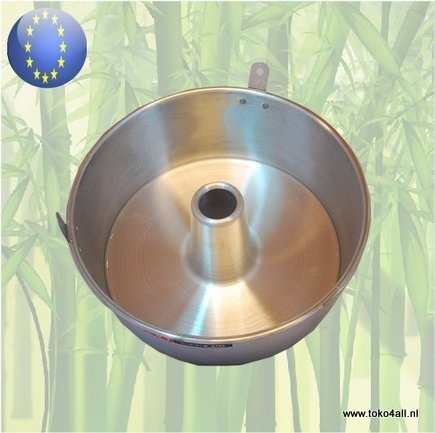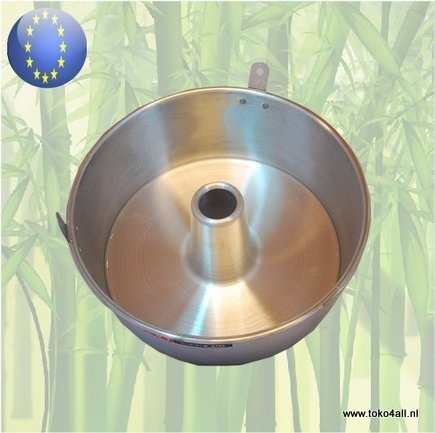 Chiffon Cake mold 26 cm
€11,95
Chiffon cake tin with a diameter of 26 cm. Consists of 2 different parts to make loosing even easier. Make the most delicious Chiffon cake yourself
In stock (21)
(Delivery timeframe:1-3 days)
Chiffon Cake mold
This mold is made of aluminum and consists of 2 parts. The bottom with the round protrusion in the middle is separate from the edge. This makes inverting the cake after baking easier. The Chiffon shape has a diameter of 26 cm and is approximately 9 cm high up to the edge of the shape. The round opening in the middle has a diameter of approximately 5 cm. To bake chiffon cake yourself, it is best to use the Pondan mix that we have in our range.
Necessities
1 Pack chiffon cake mix
7 medium eggs (400 gr)
3 Tablespoons of water (30 ml)
150 ml coconut milk
Preparation method
Preheat the oven to 170º C (convection oven 160º C.). Beat the eggs for 3 minutes until creamy.
Add the Pandan Chiffon Cake mix, then continue beating for ± 8 minutes until the cake batter is smooth and thick.
Add the coconut milk and stir well.
Spread a Chiffon cake tin (22 cm diameter) with margarine and cover with breadcrumbs if desired.
Bake the cake for 60 minutes. Let it stand for ± 10 minutes.
Remove the cake from the mold, ready to serve.
Also known as: Chiffon Cakevorm, sponge cake mold
Country of origin: Europe
Brand: Jawa, Maspion
Code: 8927122886973
Content: 1 pcs.