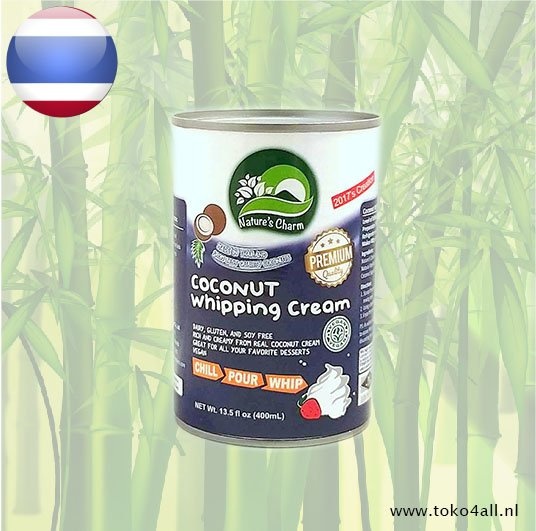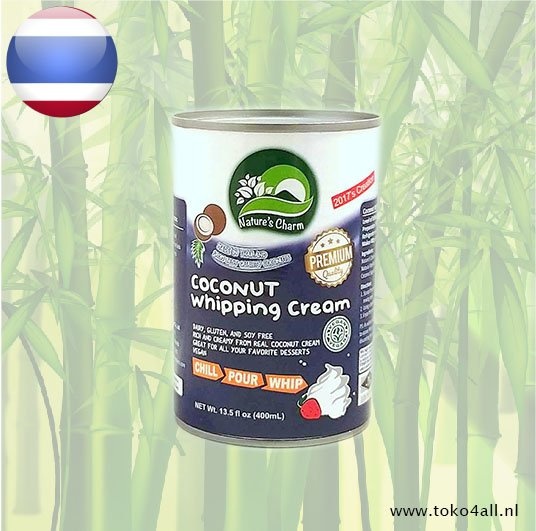 Coconut Whipping Cream 400 ml
€2,45
Coconut cream from Nature's Charm is a vegetarian variety. Rich in coconut oil that tastes even healthier and better than coconut milk.
In stock (5)
(Delivery timeframe:1-3 days)
Coconut Whipping Cream
We proudly present this coconut whipping cream. It's so rich in coconut oil and virgin coconut oil. This makes it better and healthier than ordinary coconut milk. All these goodies from coconuts are not just good for your health, they are also good for your taste buds because coconut oil is the magical ingredient that enhances the cream's texture and the whipped cream. Natural vanilla extract has also been added to give it a nice hint or vanilla flavor. This winner item is suitable for all your baked goods and topping. Simply just chill-pour-whip and enjoy
This coconut milk is:
The richest and creamy coconut whipping cream to spoil your taste buds
Made from healthy fats of coconut
No palm oil
No vegetable oil
Cholesterol free
Trans fat-free
Preparation tip!
1 can of Coconut Whipped Cream
2 to 3 drops of vanilla extract
1 teaspoon of coconut sugar or syrup
Preparation method
Chill overnight or in the freezer for 5 hours
Scoop the coconut cream from the can into a medium bowl
Use a hand mixer and beat the cream for about 3 minutes
Enjoy the coconut whipped cream in your favorite way
Ingredients:
Coconut cream (coconut milk, water), coconut oil, coconut sugar, carboxymethylcellulose, vanilla extract, polysorbate 60.
Also know as: Kokos Slagroom
Country of origin: Thailand
Brand: Nature's Charm
Code: 093856993404
Content: 400 gr.