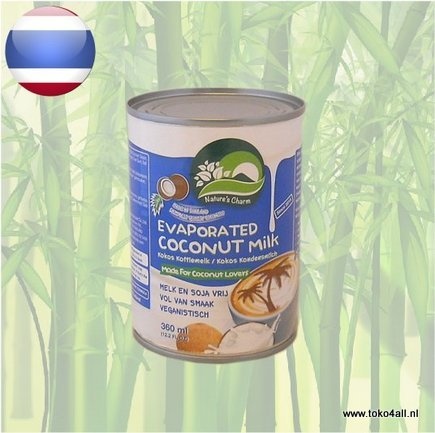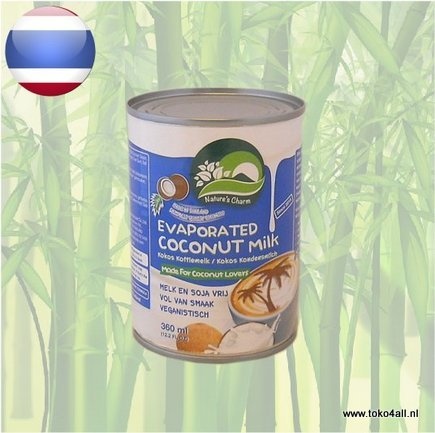 Evaporated Coconut Milk 360 ml
€2,35
Unsweetened coconut milk nature's Charm is coconut milk which is also delicious as coffee milk. A delicious, healthy, innovative, and vegan product.
In stock (7)
(Delivery timeframe:1-3 days)
Evaporated Coconut Milk
This coconut milk is natural milk for the lover of coconut and milk. Nature's Charm delicious can be used as a coffee enhancer. It makes coffee ever richer. Made from the best coconuts from Thailand. Besides the coffee, you can also use coconut milk in sweet and savory dishes.
This coconut milk is:
Milk free
Lactose-free
Trans fat-free
No cholesterol
Gluten-free
Vegan

Evaporated milk or condensed milk
There is much uncertainty about condensed and evaporated milk. The milk is boiled in both cases so that the percentage of water reduced in the milk and the milk is thicker. With condensed milk they will add sweetness, this is also indicated on the label with sweetened condensed milk. The evaporated or condensed milk remains normal unsweetened. This milk is actually a bit like regular coffee milk. Cans condensed milk are basically the same as those of unsweetened milk, provided that the terms of sweetened be added to it. With sweetened condensed milk, we are talking about the real thick sweet milk.
Ingredients:
Coconut milk (coconut cream, filtered water), coconut palm sugar, guar gum, salt.
Also known as: Geevaporeerde Kokos Melk
Country of origin: Thailand
Brand: Nature's Charm
Code: 093856992735
Content: 320 gr.